Race and Justice – are the two incompatible?
Race and the criminal justice system took center stage at an April 21 forum that drew in a panel of outside experts and spurred a lively discussion among students, faculty and the community at large.
The nighttime forum was held in the Courniotes Auditorium and drew an overflow crowd to listen and participate in this current and controversial topic, intensified in recent months thanks to citizen videos of white police officers killing black men.
The event featured an impressive cast of guest speakers — Dr. Riché Barnes, who is professor of Afro-American studies at Smith College; Professor Dr. Gary Berte, who teaches Criminal Justice at Springfield College; Wayne Phaneuf, author and executive editor The Springfield Republican, AIC graduate student Kyla Bivins; and AIC Criminal Justice Professor Frederick Bartmon, who served as moderator.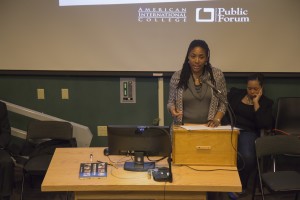 Speakers introduced themselves, giving background and information before opening up the discussion, which was lively and at times intense.
Bivins began by asking for a hand count of all who have been to jail, or who have seen a close friend or family member behind bars. Most of the audience of about 100 people raised their hands.
She called for a uniting of the many social and civil rights movements active today, for an end to the plight of young black men: All across the United States, they are far less likely to finish school, and far more likely to land in jail.
"We need collaboration between organizations. We need to connect the dots," said Bivins, who plans to parlay her master's degree in counseling to a career working with urban youth.
The talk came on the heels of a number of police fatal shootings of young black men around the country, and a growing call for justice, and for a revamping of the criminal justice system.
Berte point to his 20-year career as a Springfield police officer, followed by another two decades teaching CJ at Springfield College, as evidence that he has seen police and community relations from both sides of the spectrum. He and a group of students recently put together a report with recommendations on possible changes for Springfield. He said it is being considered by the Police Department and city officials.
"We must come up with some practical solutions," he said of the national situation and ongoing public dialogue. "It's not going to be easy. It may take generations."
Barnes spoke of her decade-long research project on a group of African-American women, starting out with how they juggle work and family, and morphing into a long-running look at how they view societal changes, from witnessing the election of the country's first black president to today's national dialogue on the treatment of black men.
She noted that women, who are often not included in that dialogue, are at its heart.
"The police beatings and shootings of black men, as seen in the media, eerily remind me of the mass lynchings that took place years ago," she said. "What we see in these images are black men. We tend to forget that there are mothers and wives and sisters and daughters who are terrified by this.
"Black women have always been engaged in strategic mothering, whether for their own children or for the community. They have found strategies for resistance and survival. The black community has survived in large part due to the strategies of black women," Barnes said.
Barnes' book 'Raising the Race: Black Career Women Redefine Marriage, Motherhood, and Community,' is based on her research and will be released later this year.
Phaneuf, who grew up in the Mason Square area of Springfield, has earned a reputation as a local historian. He shared stories from his research – and from his recently published 'Struggle For Freedom: The History of African Americans in Western Massachusetts,' putting much perspective to the discussion.
On today's issues, Phaneuf said, "The Republican and MassLive are committed to telling the story of what's happening."
A discussion followed, ranging from the question of mandating cameras on police officers to the 'Prison Industrial Complex' to the recent 'Black Lives Matter' protest at the X in Springfield, which resulted in the arrests of 16 people.
Community activist Charles Stokes said he believes the changes needed to save young black men will come about only with black people leading the charge.
"White supremacy has always been the rule of this country. We need education. We need to create an economic base. We need to become producers instead of consumers. We need to help our young black boys," he said.
To laughter from the audience, Stokes added, "I'm not a racist. I jut love black folks."