Big men on campus
AIC football has not been getting the attention that they have wanted for the past couple of weeks because of their recent losses. Even though they have been going through this drought there has been a bright spot.
This is their freshman athletes who have been making plays and adapting to college play.
Cyriacus Ibezim is a 19-year-old freshman from New Jersey who plays outside linebacker and in just the first couple of weeks of pre-season the coaches saw a lot of promise in him. So much that he was named the starter for the season opening game where he led the team in tackles with 12. He hasn't looked back since and gained 11 more tackles in week two. This is not only good for Cyriacus Ibezim, but it is great because he is actually leading the team in tackles. This is not just an everyday thing for any player let alone a freshman who is just continuing to impress the coaches and his fellow teammates.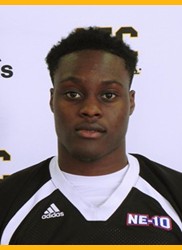 Leading the team in tackles is nothing new for Ibezim who told us that back in high school also led his team Fork Union Military Academy in tackles. He did this with 105 tackles and if he keeps up with the numbers he is receiving now Ibezim will be right on track for another 100 plus tackle season.
Ibezim reflected on his new life as a college athlete.
"It feels unreal, I never had any doubt in my ability to play football, but my coaches told me I would have to wait my turn. Everything seems to be coming so quick, but I just hope we can get out of this losing streak," he said.
Ibezim also said that he did not win much in high school so he would like to start winning soon.
Another freshman Lucky Sesay has also been enjoying time on the field and if he continues to perform the way he is he can see more playing time in his future.
He already is getting a lot of time on special teams, which is way more than the freshman expected after seeing most of his teammates be redshirted. Surely the same would be done to him, but the coaches had other plans for the freshman who was very confident all throughout camp.
With the recent losses the coaching staff is not afraid to try out new players and new schemes if it means giving them a chance to win. Sesay looks like he has the ability to give the team that spark so why not try him out.
Sesay the strong safety does not have a lot of competition to beat out besides All American Daquan Holmes, which seems very unlikely.
Sesay even stated "I am perfectly fine waiting my turn, but if I do get the chance to step on the field I am going to give it all I've got."
Sesay finds college football different than the high school game in a key way.
"The game is so much faster and forces you to be on your toes. There are no more little kids out on the field," Sesay said.
He understands what he came here to and he plans on doing just that whenever he is called out there.
Both Ibezim and Sesay are proof of the up and coming talent that AIC has. It may not look too good for the team right now, but sooner or later things are going to start turning around, hopefully sooner than later.
The coaches know they cannot stop here, they will continue to stock up with talent with the next recruiting classes to come. The more talent they have the better because no one has ever complained about having too much fire power. If there is one thing we know for sure AIC football has a very bright future.