Burning up the football field
On September 3, 2013, Daquan Holmes played his first college football game.
It was a very important and memorable moment for him because ever since he was 10 years old he has wanted to play college football. This was not only an accomplishment for him, but it was a start of a legacy.
During that game three years ago, Daquan Holmes caught his first interception and returned it for 22 yards. That interception was the first of many and it started something that would later turn into a legendary story.
Holmes is arguably the best cover safety to ever play for AIC. He broke the interception record when he was only a junior which was 14. He broke that record with ease because he still had another year to play.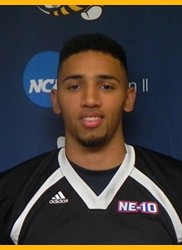 Daquan Holmes did not want to stop there. He wanted to go for bigger records as he is now chasing the interception record for the entire Northeast-10 football conference.
Holmes is only one interception away from tying the record and two interceptions away from breaking the record.
Holmes recently reflected on how he felt when he caught his first interception.
"My heart was racing," he recalled. "I knew what play they were running because of all the film study I did. I knew what route they were going to run on the slot receiver but I did not want to make it obvious."
He added, "I did not want the quarterback to see me rotating over to the middle of the field so I baited him. When I saw the quarterback looking in the same direction as the receiver I had to guard and his arm go back, I immediately jumped the route. After I caught the ball I was so excited that I almost forgot to run with the ball. After the play was over, I loved the feeling I had and knew I wanted to catch many more."
Had Holmes been thinking about that interception record for awhile?
"Not really," he said. "Every time I caught an interception it was to help my team win. I did not realize how close I was to the record until my coach brought it up to me after I broke the school record. I go out there every Saturday to help my team win and try to win a championship, not break records. If I don't catch another interception my whole career but we win a championship, I would honestly be just as happy."
He also spoke of labels, and of being considered the best ever.
"If people want to label me as that then so be it, but if no one wants to say that, that is fine too," he said.
"I never played football to say I'm better than someone else. I've always played to say I'm a champion. I would rather be called a champion that to be called the greatest ever to play a certain position," he said.
Holmes is a very humble person and is a team guy first and his interview just proved that.