AIC hockey team fighting hard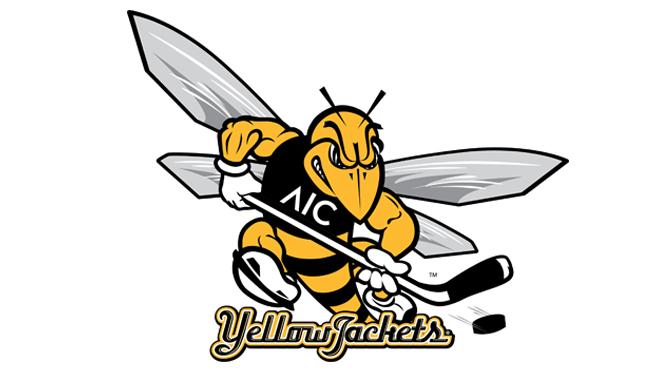 The American International College Yellow Jackets ice hockey team took on the Bentley Falcons on Tuesday, November 8 in an intense game, with the score resulting in a 2-2 tie.
With 31 shots on goal, and only one penalty, the hockey team was making a turnaround from previous games.
When asked to comment about the low number of penalties, Coach Eric Lang said the team had a goal to get less than four penalties – and they were able to check that off their list.
Also, when it came to power plays in this game, AIC did well in keeping up with their record once again. With the third-ranked power play unit in the nation, scoring on 11 out of 35 chances as of this game, AIC scored yet again on a power play in this game – as well as in the game against Bentley Thursday night.
In regards to the power play unit, Coach Lang said, "we have a really, really good high-end first unit right now and they're moving it around, and they're making the right plays."
The stat leaders of the night included Freshman Dominik Florian, who lead the game off with the first goal in the first period with assists from Sophomore Shawn McBride and Junior Johno May.
Later in the third period, Freshman Blake Christensen followed the lead, scoring the second goal, making the score 2-1. Christensen had five shots on goal on the night.
Still, Coach Lang appeared be less than happy with the result of the game when asked about it in the post-game press conference Tuesday night.
"We did some things just okay," Lang said.
Lang felt the team put in a "C effort" and says regarding the game, "I wasn't crazy about the effort and our intensity was like a sleepy Tuesday night game."
"Bentley definitely had something to do with that, they play hard, they're well coached," he added.
AIC would play against Bentley less than 48 hours later. Lang said the team needed to work "a lot harder" to play a better game on Thursday night.
When I talked with two of the star players of the night, Christensen and Goalie Zackarias Skog who both had some very good plays, they also felt the team didn't put in as much effort as they should have.
"It wasn't one of their best games but we still got a point so we stuck in there and we're just going to be ready for Thursday," Christensen said. "We started slow and we were better in the second period than the first period and got better as the game went on, but we just can't start slow," he added.
Skog agreed.
"They weren't happy with the game and how they played but will be ready to go for Thursday," Skog said.
And that they were. On Thursday, November 10 in the second game against the Bentley Falcons, though still tying, they made a turn around.
The coach seemed much happier with the way the second game against Bentley turned out. Even though they tied again – this time 1-1 – he said in the post-game press conference this time that "sometimes a tie is a good thing, in this league they don't take the points back… all in all, I'm happy with their effort."
It's obvious why he was pleased though. AIC put up a good fight and had some remarkable plays in the Thursday night game.
May scored AIC's only goal of the night on a power play in the second period. Also, AIC allowed the fewest goals it has all season, and goaltender Skog had 36 saves in the entire game. Also, AIC posting 38 shots on goal against Bentley made it a tough match.
May commented on the game in the press conference Thursday as well.
"I was just going for a little surprise, just trying to sneak one quick by them," May said of his goal.
And when asked why he thinks the team may be so successful so far this year, May agreed that the size of the team has to do with it.
"It really has to do with buying into the culture, a lot of young guys are stepping up as well," May said.
With a record now standing at 2-3-4 on the year (with a 2-2-3 record in conference) and a large number of new recruits this year, there is a reason AIC is pumping up ice hockey the most out of all their sports this year.
It's said that the ice hockey team is recruiting now more than ever, and it's paying off. Students at AIC are also getting more into the hockey team as a whole and it's really seeming to boost their confidence while on the ice.
Clearly the ice hockey team is an up and coming force to be reckoned with. This is just the start of a prosperous season for them, and the AIC ice hockey legacy.