Back to business for the football team, even in the offseason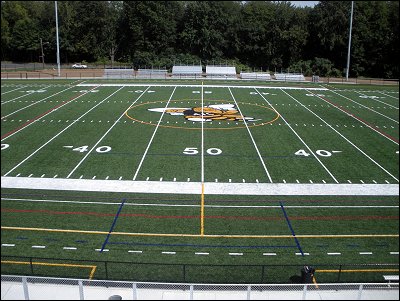 Hang on for a minute...we're trying to find some more stories you might like.
It didn't take long for AIC football to get back in the weight room. In fact, in just their second day back on campus, players were working hard.
Every morning before classes begin at 8 a.m., football players like Isaiah Tolbert and Jaysen Thompson are working hard.
Many of these players even took the walk over from main campus to the athletic facilities early in the frigid December weather just to get this workout in. This is just one display of the dedication these players have, but they know it is necessary if they want to improve.
Tolbert, a freshman at AIC, has a very bright future and he already is witnessing how hard it is to be a student-athlete.
"We aren't even in season and my body is drained," said Tolbert.
The workouts are getting a great turnout and players are seeing improvements because from these workouts.
"We know we didn't end the season the way we wanted to last year and we know we have to get better in the offseason," Tolbert explained.
Going 4-7  last season was not a good feeling for most of these AIC players, and they hope to improve by next year. We have yet to see if these workouts will bring them the results they want, but for now they seem to be on the right track.
Jaysen Thompson, another freshmen who has been attending these workouts, wants to prove to the coaches and teammates that he deserves to be on the field.
There is a lot of competition between players because everyone wants to be on the field, therefore players need to take any chance they get to prove they are the top dog.
"I don't plan on doing this work for nothing, whatever coach throws at us I can handle it," Thompson stated.
He is very confident in his ability and feels he can make a big difference in years to come. This is the type of fire that the football team needs because in recent years it has seemed like the team has lacked competitiveness.
The coaches seem to be taking a different approach this year in order to see who is really dedicated to this football team and who isn't. Not everyone is going to want to wake up at six or seven in the morning to go workout.
Even the best athlete might not want to do it, but the ones who really love football will show up and be on time. The players better be on time this year too because the coaches have very low tolerance and rules have changed.
If you are not on time then you are not getting in, which players should be used to because some professors do this too.
After one week of workouts, players seem to be too tired to do anything else such as partying and staying up late. It is very hard for these athletes because after they get out of their workouts, they are still expected to go to class and do homework.
It takes a strong-minded individual to be able to do this day after day. In due time they will adjust to this schedule, but they are also very smart and know they most keep their body in good conditions.
Some of these men have been doing this since they were freshmen in high school so this is not new to them. It may be a bit more difficult, but that doesn't change the fact that there is work to get done.
This is how coaches separate the boys from the men.