Super Bowl LI preview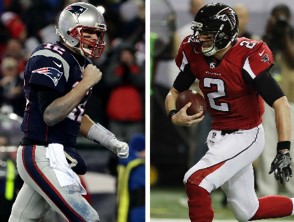 Hang on for a minute...we're trying to find some more stories you might like.
Last Sunday, the New England Patriots defeated the Pittsburgh Steelers in convincing fashion, 36-17.
The Patriots' high-powered offense was powered by their star quarterback Tom Brady's three touchdowns through the air, and a surprising performance by Chris Hogan who caught two of those touchdowns to go with 180 yards receiving.
The Atlanta Falcons also punched their ticket to their first Super Bowl since 1998, cruising past the Green Bay Packers 44-21.
They were led by their quarterback Matt Ryan who's a superstar himself, racking up 415 total yards and 5 total touchdowns in the victory.
Out of the 10 playoff games this season, the NFL has only seen two games decided by less than 10 points, giving eight games the "blowout" label.
However, this game has all of the making of being the polar opposite, and an absolute barn burner. Atlanta and New England both represent the second and fourth highest scoring offenses in the league, respectfully.
This is also the sixth time in which the league leader in points scored per game in Atlanta (33.8) has played league leader in points allowed per game, New England (15.6)
While fans of both teams should be excited about this matchup, New England fans may already be familiar with the opposing quarterback. Atlanta's Ryan was the starting quarterback for the Boston College Eagles from 2004-2007, so New Englanders likely know him well.
While starring at BC, he racked up an impressive number of awards including 1st team all conference (ACC), 1st team All American, as well as the ACC Player of the Year. In 2008 he was drafted third overall to the Falcons, who were coming off the Michael Vick era. Since coming into the league, he has been to the Pro Bowl four times, been named to the NFL All Pro 1st Team, as well as a Rookie of the Year award.
Super Bowl 51 will mark New England's record breaking ninth Super Bowl, as well as Tom Brady and Bill Belichick's seventh appearance, having won four as a duo. The game will be played at 6:30 EST on February 5th, 2017 on FOX.
* All stats and pictures acquired from the NFL's official website.