Yellow Jackets baseball team ready for the season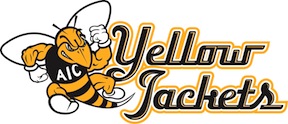 Hang on for a minute...we're trying to find some more stories you might like.
From all the sprints in the fall, to all the off season lifts, and the millions of swings and pitching reps, the AIC Baseball team is prepared to play Mercy College on Sunday, March 5, and then head to Florida later that week.
The Yellow Jackets have been working hard day in and day out to prepare for this upcoming season. Coming in last in the Northeast-10 preseason polls has given them that much more determination to rise to the top this season.
After all, "The wolf on the hill is not as hungry as the wolf climbing the hill."
The team has been in the weight room four times per week since getting back from winter break, on top of practicing every weekday – which sometimes isn't enough for the hungry Yellow Jackets. There are many players that put in the extra effort to get in the weight room or get in the gymnasium to throw and get extra swings.
With the baseball program hiring pitching coach Tyler Gauthier, they have been determined to set a "can't lose," "no let downs" attitude. Gauthier, 24 years old, is a Southern New Hampshire University grad, and pitched in the New York-Penn. League for two seasons for the Hudson Valley Renegades, who are affiliated with the Tampa Bay Rays.
When asked how he has liked his time here at AIC, Gauthier responded: "I have loved my time here at American International College. In the short time I've been here, I've had the opportunity to build on parts of the program, and develop players with my own style."
The team's three captains, senior first-baseman Chris Starcun, senior third-baseman K.J. White, and graduate student right-handed-pitcher Jason Coscio, have all kept the team on track.
The team is young, but they are talented. With seventeen true freshmen, the Jackets may lack experience, but experience doesn't always beat talent – which proves to be true, in a video that Head Coach Nick Callini shared on his Twitter page this past week of 20-year-old Miguel Cabrera hitting a two-run-homer off of 41-year-old Roger Clemens in Game 4 of the 2003 World Series.
Fittingly, Callini shared the video with the caption "Experience isn't everything…"
The Yellow Jackets hope that their talent will overshadow their lack of experience this season, as they look to win the Northeast-10, and more.
"The players are working hard and we have a dedicated staff, so we are looking forward to maximizing the potential of the opportunity we have," Gauthier said.