The debate is over — Brady is the best ever
Hang on for a minute...we're trying to find some more stories you might like.
Heading into Super Bowl LI in Houston, many probably already considered Tom Brady as the greatest quarterback in NFL history, regardless of the outcome in the big game.
If there was any lingering doubt, Brady certainly slammed the door shut on that argument.
The debate is over – sorry Joe Montana, move over. Now, the Mount Rushmore of NFL QBs starts with Brady first, Montana second.
The Brady-led New England Patriots miraculously erased a 25 point deficit, stunning the Atlanta Falcons 34-28 in the first ever overtime game in Super Bowl history.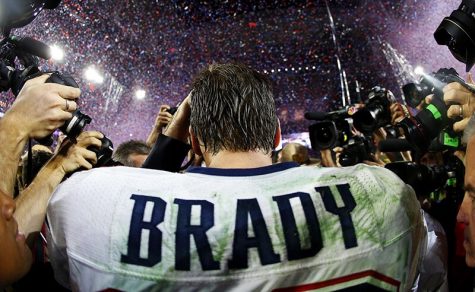 Thanks to Brady's late game heroics, a charged-up defense that finally woke up in the second half, and the Atlanta Falcons just being the Atlanta Falcons, Brady and head coach Bill Belichick hoisted their fifth Vince Lombardi Trophy together – each taking the record for most SB wins by a QB and a head coach, respectively.
We all saw the Patriots' embarrassing first half performance so there's really no need to break it down.
Here's a quick summary though: the offensive line sucked and couldn't keep Brady on his feet; the timing with the receivers was off; way too much LeGarrette Blount in the game plan; and Atlanta's Matt Ryan, Devonta Freeman, and Julio Jones absolutely torched the New England defense.
Lady Gaga's halftime show was even more entertaining than the game, until Brady and the Pats stole the show.
New England finally found the end zone late in the third quarter with a drive culminating with unsung hero James White's first of three touchdowns, but it was not a feel-good drive for Pats fans – sluggish and slow, chewing 6:25 of valuable game time off the clock. To top it off, Steven Gostkowski missing the point was symbolic of the entire night to that point.
With the Pats down 28-12 with less than 10 minutes to go, Atlanta just had to run the clock down at this point – should have been a no-brainer considering running back Freeman had been running all over New England's front seven.
But for some reason, Ryan dropped back to pass on a third and short and was stripped-sacked by Pats linebacker Don't'a Hightower – the fumble giving the Patriots life, and prime field position for Brady.
Making quick work of Atlanta's worn-out defense with time ticking, Brady marched the Pats through the red zone, hitting Danny Amendola to make it 28-18. The two-point conversion, a direct snap to White to make it an eight point game, fooled the Falcons out of their jocks.
Still, at 28-20 with 5:53 to go, this was Atlanta's game to lose. A 39 yard screen to Freeman followed by an incredible, tip-toe 27 yard reception by Jones on the sideline looked like the nail in the coffin (Jones' catch giving Patriots fans nightmares of New York Giants David Tyree and Mario Manningham).
Once again, Atlanta just had to run the ball or even start kneeling down and kick a field goal to bury the Patriots. But a big sack of Ryan and a holding penalty backed them up into New England territory after being well into field goal range – forcing a punt and thus giving Brady one last chance.
At the nine yard line deep in their own territory with 3:30 to go, Brady yet again led the offense down field with urgency, hooking up with Chris Hogan, Malcolm Mitchell, Julian Edelman and Amendola.
Edelman's 23 yard catch on this drive might just be the greatest catch in Super Bowl history, just mere minutes after Jones' nasty grab – in a scrum with two defenders, the ball was deflected and Edelman somehow caught the ball literally an inch or two from the ground.
Another White touchdown with a minute to go followed by another two-point conversion tied it up at 28. It's hard enough to convert a single two-point conversion, let alone execute a couple of them under the massive pressure of a Super Bowl.
Somehow, the Patriots stormed back from a 25 point deficit to force OT, and it all happened so quickly.
Patriots fans probably should have known the tables had turned both after Edelman's sensational catch, and when New England won the overtime coin toss. The way Brady led the offense down the field with such precision, everyone had to know that Atlanta was toast.
It took less than four minutes for Brady to storm the offense downfield. A toss to White on the two yard line sealed the deal – the confetti shot down from the rafters, the Pats completing the historic, thrilling comeback.
New England thankfully scrapped its run and screen-heavy game plan and let the greatest quarterback of all time do what he does best in the second half. After the lackluster first half, Brady was an incredible 27-37 with 282 yards and 2 TD's – just in the second half alone.
Overall, Brady finished 43-62 with 466 yards, the 2 TD's and an interception. Brady set the single-game Super Bowl record for most pass attempts, completions, and most passing yards.
Brady was also named Super Bowl MVP for the fourth time, another record (Though White would also have been a worthy recipient – he set the record for receptions in a Super Bowl with 14, along with his 3 TD's and 139 total yards).
More important than the personal statistical achievements, Brady's fifth ring undoubtedly sets him apart from the rest as the greatest quarterback of all time.
The argument is over – Brady has silenced Patriot haters from coast to coast, and the talking heads on contrived ESPN "debate" shows, the NFL Network, and on sports radio airwaves.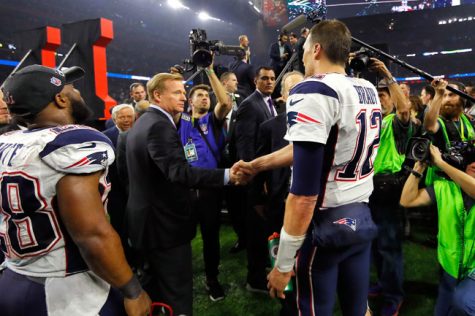 At 39 years old, Brady has been doing this for 15 years, and is still at the top of his game and the top of the league.
He was an MVP candidate this year despite missing four games. He led New England on another legendary playoff run – landing them AFC Championship Game for the sixth straight year, and his seventh Super Bowl appearance.
He set the record this year as the winningest quarterback of all time (208 and counting including playoffs), and is going nowhere. He has the most playoff game winning drives in NFL history (10), the record for playoff fourth quarter comebacks (7), and more playoff wins than any quarterback (25 wins in 34 games – Montana has 16). No quarterback has won five Super Bowls – but now he has.
Shall I continue?
Brady may not have put up the flashy numbers early on in his career like Peyton Manning or Brett Favre, but Brady has been at this much longer, and has been consistently at the top, consistently clutch, and has made it look easy with so many different receivers over the years.
Montana, Brady's childhood idol, went 4-0 in the Super Bowl, and was unquestionably the greatest of all time until this incredible Brady-Belichick run.
You have to respect what Brady has done, grabbing that fifth ring. Those two Super Bowl losses to the Giants still sting, but definitely don't hurt the quarterback's legacy.
There aren't too many 39-turning-40 year olds who can say they are one of the best at their position at such an old age (in football terms), so will Brady's age catch up to him? It's bound to happen at some point.
But if Brady can keep winning and performing at this rate, the greatest quarterback of all time argument will continue to distance himself and no doubt further cement his legacy as the GOAT.
Brady says he wants to play until he's 45, but who knows how realistic that is. Since the Patriots play in a dismal AFC East division, you can just about book them to win at least 12 games a year as long as Brady is around.
The AFC is a weak conference, so you might as well book the Pats a trip to the AFC Championship Game as long as Brady is around.
Maybe the greatest QB of all time and the Patriots will even be defending their title next February in Minneapolis — site of Super Bowl LII.