Lady Gaga's Super Bowl LI halftime show: "A Million Reasons" to love her
Hang on for a minute...we're trying to find some more stories you might like.
At Super Bowl LI earlier this month, Lady Gaga put on a real show with her halftime performance. Fans went wild as Gaga jumped, flew, and flipped while attached to cables, from one stage to the next.
Her performance gained lots of praise. Preforming the show all on her own, with no surprise guests, she proved to be a remarkable one-women show.
When Gaga began singing her song "Telephone" many thought Beyoncé would show up since Beyoncé is in the song as well.
Though there was no surprise appearance from Beyoncé, this didn't stop the performance from being one of a kind.
With Gaga's performance including some acrobatic flips and twists while suspended in the air, to some more classic moves like her microphone drop at the end of the show, she proved to be classy and entertaining and it made the crowd go wild.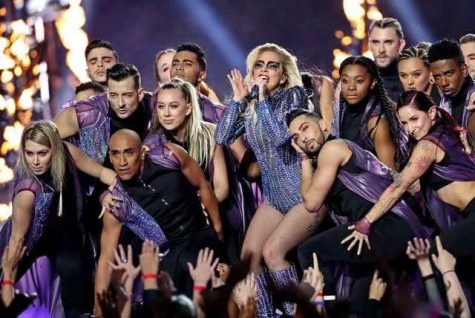 On top of that, there was a spectacular light show in the background being displayed at different parts of the performance, all created by mini drones.
Another distinction between this Super Bowl performance and others was the number of outfit changes. There were not as many crazy outfit changes as we have seen in the past, but her classy moves, crazy stunts, and amazing singing skill made up for it.
Fans also were surprised that her outfits weren't the wild type of costumes we usually see on Lady Gaga, but she actually seemed to have "toned it down" for the Super Bowl performance.
The two outfits she wore included first, a glistening silver one piece, which really stood out when she was jumping into the lights at the beginning. Then just one quick outfit change midway through her performance to her second outfit, that was a glamorous twist on a football uniform.
Allison Gavin, a student at American International College, says about Gaga, and her performance that she "has always loved her as a singer and as a person."
"I enjoyed the stunts Gaga pulled, and the microphone drop," Gavin said.
Robby Ollari, a student at AIC had a similar response to the halftime show, adding that he previously wasn't a big fan of Gaga's in that he doesn't listen to her music, but he says she seems like a down to Earth person and he "enjoyed the stunts and thought the ending was cool."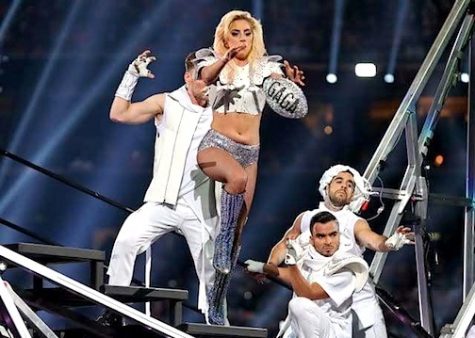 The first thing I noted about Gaga's performance afterwards, was how it seemed to have no political agenda whatsoever.
Though, it was speculated that the musician might get political seeing that Gaga was a big Hillary Clinton supporter, and even voiced her negative opinions often about President Donald Trump.
But that didn't seem to be the case with Gaga's show-stopping performance.
As opposed to previous years, with Beyoncé's whole speech on Black Lives Matter last year, and with the political uproar being caused elsewhere, lately people seemed pleased and relieved that the Super Bowl halftime show didn't seem to include politics.
But was that the case?
Many thought it was just a straightforward performance, but others claim maybe there was a vague underlying political agenda.
With Gaga opening singing the song "This Land is Your Land" nobody seemed to think much of it at the time, other than just being patriotic, and appearing to simply want to bring everyone together.
It wasn't until later that people started to come out saying there was a hidden political statement in that song, and in other aspects of her performance.
Really, it's all how you perceived it to be.
Some claim that this song is used in, and represents the protests going on all around the United States right now. The song has for many years been a song representing protests and unity, and many claim that was what she was trying to represent by singing it.
Others claim her song "Born this Way," which is about freedom and equality for all, specifically referring to the LGBTQ community, was trying to send an underlying political message as well.
Whether there was some sort of intentional hidden political agenda or not, I think we can all agree that her performance was mainly focused on just that – preforming. And Gaga made most "feel good" which she stated was the main intention of her performance that night.
"I didn't even think about the political aspect, and if there was one I didn't notice a political statement in her performance," Gavin added on the political stance.
Many other fans didn't notice the potential underlying message as well.
Ollari also did not see the political undertones, if that is in fact what they were.
"I thought the beginning was just patriotic," he said. "But I wouldn't have cared either way if politics were brought up or not."
Along with that, Lady Gaga fooled some us in other ways as well.
Well, at least the people who watched the Super Bowl on TV.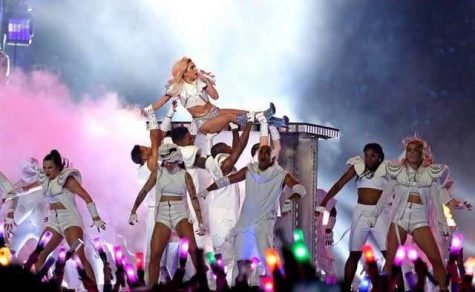 At the beginning of her performance Gaga was shown jumping from the roof atop the stadium, into the stadium while suspended by a cable, which is a 260-foot jump.
If you were at the game though, you wouldn't have seen this jump because it was a pre-recorded stunt. Lights in the stadium had her in the dark so fans couldn't see where she was either, until the lights shined on her to reveal she was starting her performance from a high wire in mid-air.
Even if it wasn't her live jumping 260 feet, it still looked super cool and fooled many people, making her performance that much more interesting.
And we can't ignore the fact that it was one of the best halftime shows in super bowl history, whether you like Lady Gaga or not.
And now fans really do have "A Million Reasons" to fall in love with Gaga.