Nadia Ciubotaru's spring break in Cancun
Hang on for a minute...we're trying to find some more stories you might like.
Classes are out and spring break has begun.
Students from all over the country head to Cancun, Mexico for a good time. What better way to burn off that stress after studying all semester? Jumping on a plane in Boston right after taking midterms; four-and-a-half hours later land in paradise with crystal blue waters and white sand beaches.
It was a dream come true.
Despite March being one of the peak seasons for tourism, students flock in to Cancun for some fun in the sun and some wild nights.
Cancun is Mexican city on the Yucatán Peninsula bordering the Caribbean Sea. Cancun has lots to offer even for budget students on vacation.
Cancun's 'El Centro' which is the center of the 14-mile hotel strip has shops, restaurants, beaches, bars, clubs and much more. There are local beaches that are packed with students having a good time. Some hotels are reasonably priced. Boulevard Kukulcan is packed with all of the well-known restaurants like Hooters, Bubba Gump and even McDonalds.
Spring break is all about party and nightlife and Cancun has got it down. Coco Bongo is considered the hot spot for nightlife. Coco Bongo is not the typical nightclub.
They feature shows with acrobats, live bands and musician impersonators such as Elvis and Rihanna. The impressive entertainment comes at a pricy entrance cost of $70 for regular admission.
Shopping at La Isla shopping village is not like shopping at mall in the states. The shopping village hosts an aquarium along with dolphin show. The shopping village also has a wax museum and cinemas. The mall is surrounded by 43 restaurants.
Parties at the beach, shopping, and eating out is not all that Cancun has to offer. Cancun has many day trips and excursions available as well. Like zip lining, or snorkeling through fresh water caves.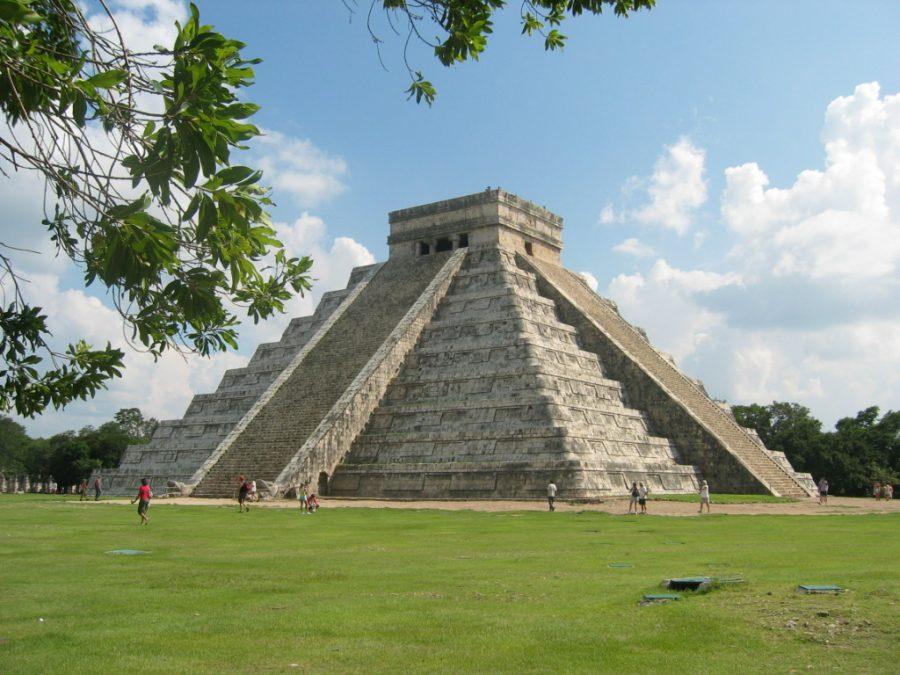 There are also many cultural activities like Chichén Itzá. The pyramids are one of the new Seven Wonders of the World. It is a city built by the Mayan people with pyramid like El Castillo that was once used by Mayans as a temple for worship. Even though the Mayan ruins are a about a two hour drive from Cancun it is well worth the trip.
Isla Mujeres, an island just a ferry ride from Cancun, is also a must while in Cancun. It is home to a turtle farm, and beautiful beaches like Playa Norte.
The weather in Cancun averages around 77°F in March, so escaping the cold New England might be a good idea.
All that Cancun has to offer it is anything but boring. Every day is a new adventure in Cancun, and it is a must visit whether on spring break or another time.
Not all students get a chance to go away for spring break, though.
Some students spend their spring break working and some students spend their spring break on campus.
Like, Annie Norton a sophomore at AIC – she spent her spring break on campus rehearsing for the "Chicago" musical.
"If I wasn't in rehearsal I would be happy to be in Cancun," Norton said. "But I love being here and rehearsing for the show, and do not mind it at all."