Spring football is here, AIC Football is back!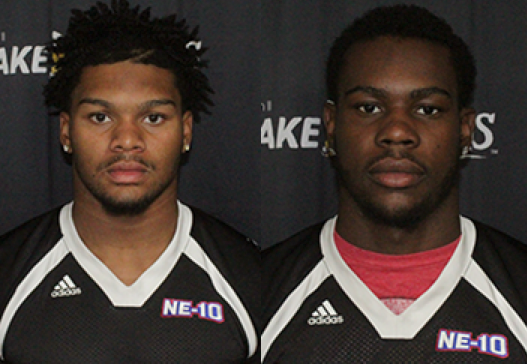 Hang on for a minute...we're trying to find some more stories you might like.
Spring football is here!
This is what players have been training for, and they can't wait to get back on the field after this harsh winter.
For the past six weeks, players have been forced to wake up at six in the morning to go and lift weights and run in the gym. This is just one of the regular rituals we have in college football and it will be continue because coaches know how important the offseason is.
There is always time for us to get better and sometimes we have to make sacrifices in order to reach our goals. So it may have been difficult for these athletes to wake up every morning and then attend class, but it will pay off shortly. This is why every coach explains to players – football is not for everyone, only a select few can make it.
Through these workouts we have seen a lot of players who are showing us a lot of hope and promise. Coaches are looking to the future because they do not want a repeat of past seasons that did not go so well.
While players are working out the coach's job is to assess each player and help them to grow. Coaches are constantly pushing us to new heights in order for us to be better players overall. A lot of freshmen have been making great strides and there seems to be a number of freshmen that look better than coaches thought.
This spring, two freshmen who have been at the top of their class are Samad Davila, a running back from New Jersey, and defensive end Amir Amos, also from New Jersey. They will be on the field sooner rather than later and they can make a big difference for the team.
So far everyone has showed some improvements while in the weight room and running in the gym, but there is only so much we can do inside. Players and coaches are simply waiting until we get out on the field because this is when the true stars will emerge.
This is when players really need to be giving maximum effort because no one came here to watch, everyone wants to be playing. Many players have been waiting for the day we can get on the field because they know how hard they have been working. Many have even taken to social media to post their countdown to this day.
"This is the sport we love so it is always great when we can finally get back out there and play," Davila said.
Davila is very popular in the locker room and many players are rooting for him to start next year. Davila knows he can do it; he just has to show everyone else.
"I know what I need to do to get on the field. I simply just can't let anything distract me and let me lose sight of my goals," said Davila. He is a very humble young man who seems like he knows where he wants to be in life.
Amos is in a great situation right now, and if he keeps working hard he can get a lot of playing time next year. At defensive end there is a lack of players at the moment because of all the graduating seniors, and Amos might be next in line.
"I really learned a lot last year and I feel I've prepared myself well enough to be on the field," said Amos. "The only person who can stop me is me." Amos feels very confident that he will be a starter next year as long as he does what he is supposed to.
Sometimes players can't take waking up early everyday and being pushed to the limit and this offseason Amos was pushed.
Still no turning back, Amos said, "I've come too far to turn back now I just have to keep getting through it." He knows his time is coming and any troubles he faces are simply apart of the journey to the top.
Once again AIC is in for a treat and it will be great to see how the football season plays out. They are off to a great start and with so many players on the same page they are bound to do great things.
They even hold competitions on Saturdays, which is a lot of fun for teammates to compete and bond. The team is going to have to come together and be on the same page if they want to move forward.
The message "a team is only as strong as its weakest link" has been repeated all offseason, and no one wants to be the weakest link.
As long as AIC Football keeps pushing to get better, they should have nothing to worry about.