Fashion Show rocks the Griswold
Hang on for a minute...we're trying to find some more stories you might like.
American International College hosted its 48th annual Fashion Show on April 8th, with plenty of fun and high style.
A group of volunteers came together to create the best Fashion Show yet.
Professor Frank Borelli from the Theater Department was in charge and made sure everything was in place. This Fashion Show and every other one that came after it honors a lady everyone looked up to once as a role model and a mother: Naomi White a.k.a Ma White, known for her work with an organization known as P.R.I.D.E. (Person Ready In Defense of Ebony).
Alumni who were once a part of it from the 1980s up to the 2010s came out to show their support along with some AIC colleagues.
A couple of students offered their thoughts on the show.
Dana Bramble, a junior majoring in Chemistry here at AIC, took part in the Fashion Show.
"This year's Fashion Show may have been just one of the best one yet since I've been here," Bramble said. "Especially getting to be in it was just great and I would not mind being in it for my final year."
Bramble added, "Tech week killed me because we had to practice every day for basically two weeks until the day of the fashion show from 8-11, sometime even pass that." From the look of it, she was both exhausted and happy that she can now relax, but overall she was happy to be a part of it.
Naquan Smith is also a junior here at AIC is also a junior, and is a member of the Track and Field team. Smith was also part of the show.
"Rehearsing for the past couple months has been something," Smith said. "Remembering my scenes for the show was not the problem but, coming from school to practice then the Fashion Show, I felt exhausted but, I wanted to take part," he added with a smirk on his face.
Smith added, "It was fun. The crowd was nice and my friends came out to support so, overall it was a great show and I would not mind doing it again for my final year."
Freshman Carl Colas agreed.
"This Fashion Show was good to me. I enjoyed it. I felt a bit nervous the day of but, I got it together and did my part," said Colas, who is wide receiver on the football team.
"Saturday was such a long day coming from a scrimmage to a rehearsal before show then to a party was a drag. It was really fun though and then to party after to end the night was just the right way," Colas added with a laugh.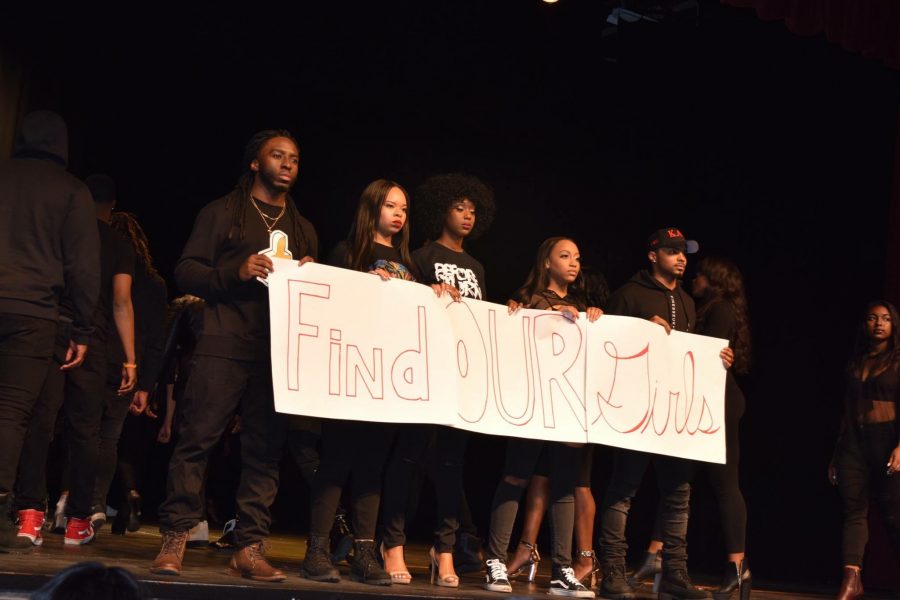 The 48th annual Fashion Show was good to the crowd and those who participated in it as well. Everyone enjoyed themselves and ended the show in a dedication to a poster saying "Find Our Girls."
The best way to end the show was by letting everyone know that all lives matter, and that things need to come a change.