What Grinds My Gears: "13 Reasons Why"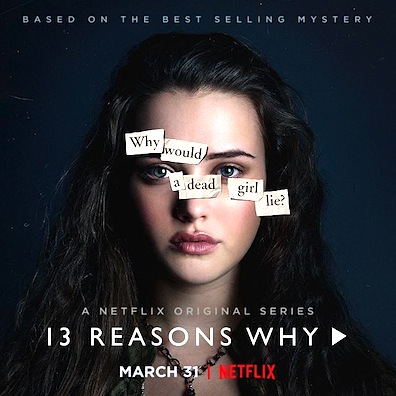 Hang on for a minute...we're trying to find some more stories you might like.
For this final edition of The Yellow Jacket, I am going to get a little bit more serious … Not that all things that piss me off aren't serious, but this is one that I think our campus needs to really hear.
Just like any other college student, I spend virtually almost all of my free time binge-watching Netflix shows, so naturally I watched all of "13 Reasons Why" in one night, because I felt compelled to know what the ending was so desperately.
If you are unfamiliar with the show I will give a brief synopsis without spoiling the show if you plan on watching it. In this show, we meet a girl named Hannah Baker who commits suicide but before she does so she records 13 tapes about the 13 reasons why she killed herself, and has them delivered to the 13 people who she blames for pushing her to this decision. It's honestly super heavy and graphic, so fair warning if you decide to watch it.
Now that I have been done with the show for a couple of weeks, I finally have solidified my thoughts because I knew that something pissed me off about the show but I couldn't quite put my finger on it.
That is, until the other day when I realized that these past few weeks is the most I've ever heard people talk about how serious issues like suicide, depression, rape and bullying are – it's all over campus, the internet and everywhere else I look.
While yes I absolutely agree that these topics are important to talk, about I am almost at a loss for words that it took Selena Gomez producing a new Netflix series to bring these literally life or death issues to our attention …
Like what the hell guys … These issues aren't brand new – they have always been a huge problem, especially with people our age. We always went to the anti-bullying seminars in middle school and high school, but unless it happened to you or someone you cared about it was never really a conscious reality to us.
I'm gonna throw some uncomfortable facts at you right now … Over 1,000 college students commit suicide nationwide every year. In fact, suicide is the third leading cause of death of people ages 15-24.
Really let that sink in… typically a person is in undergrad for four years, so nationwide in four years on average 4,000 college students will take their own life. That's larger than the overall student population at AIC undergraduate and graduate students combined.
Suicide, depression and bullying are serious topics and it shouldn't have taken a Netflix show to explain that to us as a society … Plain and simple.
On a not-pissed off note, if you or someone you know is going through some sort of crisis and you think they might harm themselves, please, I am begging you to utilize the services we have here on campus.
You can file a CARE Report which can be found on myAIC, and I also urge you to take advantage of the services that the Dexter Health Center offers, such as individual therapy.
And that's what grinds my gears …