Westfield has a new coffee shop on the Circuit
Hang on for a minute...we're trying to find some more stories you might like.
A new and vibrant local coffee shop has debuted in Western Mass, good news for coffee lovers in the Springfield area.
Circuit Coffee opened its doors for the first time in Westfield this month.
Created and owned by 24 year-old Ted Dobek, an Agawam native, the coffee shop is conveniently located near Westfield's Park Square Green. Westfield recently invested millions of dollars into renovating the downtown area. For Dobek, it was the perfect location for his coffee shop.
Dobek has a degree in city planning from Westfield State University. He worked as a graphic designer, but his passion has always been making good quality coffee. He has been working with coffee for about four years.
Dobek had a business plan for his coffee shop back in college, that he wrote up and showed it to his English professor. Four years later, his college business plan became a reality.
With the help of family, friends and his fiancé Jessica Ruge, Dobek was able to completely renovate and open the coffee shop in six months' time.
Visitors will immediately notice an exquisite interior and exterior design the shop. Walls full of big windows give the space an open and comfortable feel.
"We have a very bright and uplifting space, we utilized the neutral colors, and people feel positive when they come in," said Dobek.
All bar tops and wall shelves in the coffee shop are made out of a refurbished bowling lanes, from a local bowling center that is being demolished in Westfield.
Coffee tables are made out of big wooden cable wire stools that were sanded down and holes filled with epoxy, giving it a nice sleek look.
Circuit sources their beans from Share Coffee Roasters in Hadley, a fairly new coffee brewery in the area, where Dobek had the pleasure of working for about a year before opening his coffee shop.
September 11 was opening day, and Circuit had such a big turnout of people that they ran out of coffee, and Dobek had to make a quick run up to Hadley to stock up on more.
Putting in only four hours of sleep a night on his first week of opening, Dobek said he enjoys being on the run.
"I feel like I am in a movie, and I am just watching it, does not feel real," he said.
Inspiration for opening the Circuit Coffee shop, Dobek said, was "the fact that there wasn't anything good around here. Usually people that want to get really good coffee drive up north to Northampton area or down south to the Hartford area. Springfield area was missing something, and Westfield had a lot of potential."
The shop is located at 22 Elm St. in Westfield, and is open Monday through Saturday from 6:30 a.m. to 6:00 p.m.
"We value a day off as owners, as well as our staff so we are closed on Sundays," said owner Dobek.
Circuit has a simple small menu – it is not about the quantity but it is about the quality in Circuit
Coffee. They might not have a lot of items on the menu, but they make all their drinks to the very best quality.
The most popular item on the menu is the maple latte. All of the drinks on the menu are served hot or iced, and the maple syrup is all natural and sourced locally.
"We try to support the local business, so we buy everything local," Dobek noted. There are also candles and pop sodas made locally in Ludlow, and chocolates from Leverett.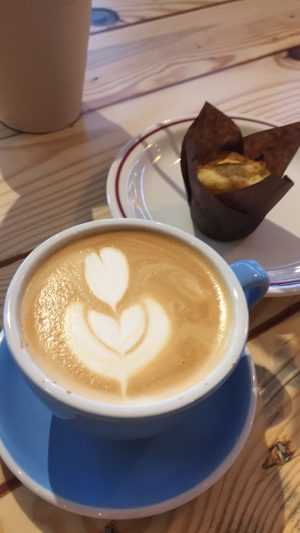 Nadia Ciubotaru
AIC students Alli Gavin says she is interested in coming to Circuit Coffee Shop.
"I really love coffee and always looking for local coffee shops, besides the typical Starbucks and Dunkin' Donuts," Gavin said.
Circuit provides free WIFI to its customers, making it the perfect place to sit down grab a coffee and study for the next exam.
The best advice Dobek can give to anyone that wants to open up a business is to "first work under somebody or with somebody to gain experience."