AIC Football players reflect on "Hell Week"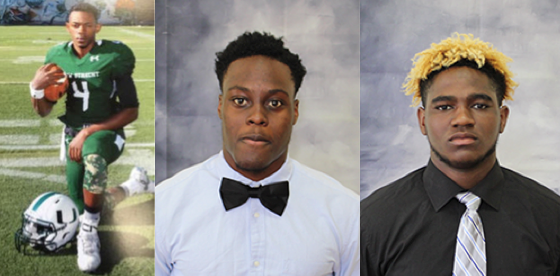 Hang on for a minute...we're trying to find some more stories you might like.
Every year the AIC football season starts around the end of the summer in August.
During the offseason that's what every football player works hard for, getting stronger, faster, and improving their craft on the field.
The camp is known unofficially as Hell Week, where you have literally two weeks to prove yourself to the coaches what you got for them to judge if you would be a factor to the team or not.
Everybody on team fights for a spot, so it's about how badly you want it. If the coach thinks you're not ready he will basically sit you out for season where you can only practice with the team but cannot play in the games – this is called a redshirt season.
We are now in the beginning of the season where most of the players know their spots and if they are playing or sitting out.
Three football players gave the YJ the inside story on their Hell Week, and what happened.
They are Miquin Davis, Cyriacus Ibezim and Jaylen Evans.
Davis is a 5'11 freshman from Brooklyn, N.Y, and he plays defensive back. He went to New Utrecht High School.
Davis explained how hard he worked and all the time he's put in.
"I didn't even get a job this summer, that's how dedicated I was," said Miquin.
While practicing during Hell Week, he got into a tragic car accident – it's good thing he didn't suffer a severe injury. He escaped with a mild concussion, a busted lip and a chipped tooth.
"I saw death at 6:15, I thank the Lord," he said. Davis couldn't even prove himself to the coaches how good he was because of that, so he suffered by not playing until now. But he's not about to give up.
"I'm a lion, I'll be back" he said.
Ibezim is a sophomore veteran from Union, N.J. He played his first year AIC as a starter at linebacker.
In preparing for the season, Ibezim said he worked over the summer to gain some weight. He was at 215 – his goal was to get to 230, which he achieved. He admitted that was a difficult goal because his mother didn't cook a lot because of her job.
But he feels ready to go.
"I can't wait to tear heads off this season," said Ibezim, adding that he loves the intensity from the offense and defense and explained how hard he worked so his spot didn't get taken.
"I feel like we are going to do big things this year as a team," said Cyriacus.
Lastly, Evans from Hempstead, N.Y., is a freshman who also plays linebacker for AIC.
During his offseason he talked about how his mindset was to get a starting spot on the team as freshman, because he felt he could.
"I feel that I can tackle anybody running the rock," Evans said.
He's been working with his personal trainer his mother got him, to get bigger and stronger for the season.
Evans said camp was good for the first week until he suffered an injury during a scrimmage game that following week. During the scrimmage, he got hit in his back the first play and landed the wrong way on his shoulder, causing it to pop out of place.
He stated how sad he was because his family came to watch him play and he only got a play in. "I cried during the scrimmage and after, but it's all good" said Evans.
Hell Week is over, it's time to play ball!