Greek life emerging at AIC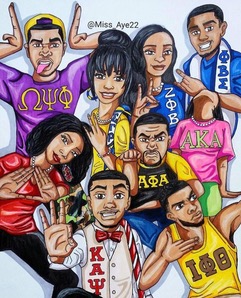 Hang on for a minute...we're trying to find some more stories you might like.
Not many people are aware of what is uprising right here on our own campus.
Did you know that over 9 million college students across the country are members of a Greek organization? AIC has its share of actively involved members.
There are numerous reason why individuals decided to join the lifelong brother or sisterhood. Whether it's to make friends, to build their resume, to become a social bug, or to learn leadership skills, each of these incentives will change their lives in a positive way.
A common misjudgment of these organizations is the negative-stereotypes associated with Greek life.
Fraternities and sororities are often accused of hazing, binge drinking, and partying. It is unfortunate that hazing scandals are what you hear about in the news but the fundraisers and giving back the organizations partake in do not receive that same coverage.
Partying has never been a reason to join Greek life. Students who become a part of these organizations do so to make connections, become a lifelong family, and to develop leadership and social skills. These skills are useful for after graduation and joining the real world. Becoming an adult, and that transition from college to adult is not easy. Being a part of one of these organization means that you will always have that help or guidance from someone you can relate to.
There are nine historically black Greek organizations. These orgs make up the National Pan-Hellenic Council. This council is commonly referred to as the "Divine 9". These organizations have been around for a very long and are rich in history. Listed below are the nine organizations:
Alpha Phi Alpha Fraternity, Founded 1906, Cornell University
Alpha Kappa Alpha Sorority, Founded 1908, Howard University
Kappa Alpha Psi Fraternity, Founded 1911, Indiana University
Omega Psi Phi Fraternity, Founded 1911, Howard University
Delta Sigma Theta Sorority, Founded 1913, Howard University
Phi Beta Sigma Fraternity, Founded 1914, Howard University
Zeta Phi Beta Sorority, Founded 1920, Howard University
Sigma Gamma Rho Sorority, Founded 1922, Butler University
Iota Phi Theta Fraternity, Founded 1963, Morgan State University
AIC students who are a part of one of the great organizations say they are happy to be involved.
Jonathan R. Jubilee, who is earning a Masters in Business Administration and is a member of Alpha Phi Alpha Fraternity, Inc. Jubilee said his involvement has been life-changing.
"I love the fraternity because of it helped me develop as a man," Jubilee said. "I was fortunate to join as a freshman and as able to see myself grow into the person I am today."
Jubilee listed his reasons behind joining the fraternity.
"Another reason is the Brotherhood. The Alpha Kappa Chapter of Alpha Phi Alpha Fraternity, Inc. strives on Brotherhood. Lastly, the networking and the history behind my organization," said Jubilee. "Knowing in the back of your mind that you are in the same fraternity as so many prominent black men such as Martin Luther King Jr. is something that I do not take for granted!" Jubilee noted.
Malik Lee, a Sports Management major and member of Kappa Alpha Psi Fraternity, Inc., agreed.
"I love my organization because I am surrounded by a bunch of like-minded people," Lee said. "People who all have similar goals and aspirations. People who like to give back and do for the community and each other. I have met so many good dudes and people who I can relate and be around for the rest of my life."
Anthony Appleton, a Criminal Justice major and member of Omega Psi Phi Fraternity, Inc., likes the friendships he has forged through Greek life.
"The main reason why I love the organization I am apart of is because the friendships you make in the organization," Appleton said. "Every other organization claims to be a 'brotherhood' but this organization practices it and live by it every day. The motto to this fraternity is 'friendship is essential to the soul' and that is something that people in my organization live by and take very serious. I believe healthy friendships are the key to a good life and that is something you will get in this organization."
Scott Smith, a Marketing major and part of the Iota Phi Theta Fraternity, Inc., said Greek life is rewarding in many ways.
"I love my organization because we are more than just a group of guys just hanging out," Smith said. "We are a group of brother trying to better ourselves and the people around us. Every day I get challenged by my brother to be a better person."