Do college students have time to work?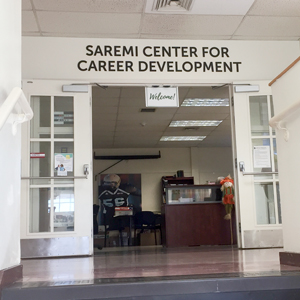 Hang on for a minute...we're trying to find some more stories you might like.
Being a college student is one thing, but being a college student-athlete with so many other obligations and involvement here on campus is another thing altogether.
There are so many student-athletes here at AIC with another one million things on their plate!
Is it possible that people have just given up on looking for a job because they're too busy for one?
Here at AIC, the school does provide work-study positions but they can be fairly limited due to everyone applying for a job, because let's face it: everybody here needs a consistent source of income!
Now saying that, in retrospect of everybody wanting a job and wanting money: is there really a drive towards that goal or is it all talk where people say they want something but don't actually want to put in the effort to be employed?
While walking around campus, a thought occurred – what better way of figuring out why the employment rate is going down than to ask students themselves on their opinion on why it's going down, if they think they're contributing towards the downfall, and their experience on looking for employment.
While interviewing a few unemployed students and employed students, there were some very interesting details coming from each and everyone of them.
Whajerjay Blango is one student-athlete here at AIC. She is a part of the Women's Track and Field Team and is currently in her junior year as an International Business Major.
Blango is currently employed at a work-study job for the copy center, in the Campus Center basement. Her job is to print, copy, file – anything that's sent to her either from a student or a faculty member.
She shared her thoughts on so many young people who don't work out of choice.
Blango said she feels that everybody is being too "lazy" in a sense.
"I feel like nowadays everybody expects jobs and money to be handed to them on a silver platter instead of working hard and when you get the job it would be ten times better knowing you put the effort into getting employed by that particular job," Blango said.
Another student, Felecia Robinson, is an Accounting major – a very tedious major that requires a lot of time hitting the books.
Robinson currently has TWO jobs: one being a simple Dunkin' Donuts job where she for at least two years now. When was asked what was her experience like looking for the job she is currently employed at, Robinson responds that it was "very easy."
Robinson followed up by saying, "I just said to myself one day that I needed a job, someone has to be hiring," she recalls. "I applied for Dunkin', didn't hear back in a week so I decided to call them three days straight until I got ahold of the manager!"
At the end of the interview, Robinson added that it isn't hard to work for something that you want.
Last but not least, Lexi Bonavita, a junior enrolled in the OT program, shared her thoughts on employment.
She is currently not employed, saying she feels that she is not necessarily contributing to the downfall of applying for employment.
"I feel me not currently having a job doesn't depict whether or not I can apply for a job," Bonavita said. "I have one of the hardest majors here on campus and I'm an RA, if anything I'm working very hard to get my studies and experience up so when it is time to get a job I can be one hundred percent ready and prepared for the real world."
With that answer, Bonavita also responds by saying she is speaking for all the hard working unemployed students who give their all in the books to get a great job after they graduate college.