She's all that: why you should know Shaneisha Jones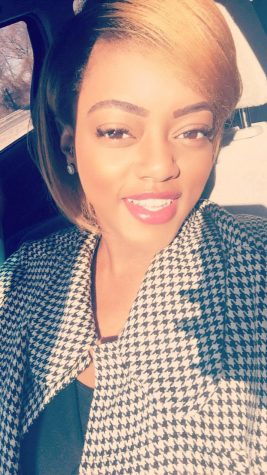 Hang on for a minute...we're trying to find some more stories you might like.
She's got class, sass and style, but these are minor qualities that make knowing her worthwhile. Shaneisha Jones is just all that, and more.
Jones is from Hartford Conn., just thirty miles from AIC. She is a senior political science major, and inspires to be a corporate lawyer.
AIC consists of a variety of people from across the world. All these people have their own stories, great qualities, and personal life goals. But it was just something about the aura Ms. Jones has on her that made this reporter more interested.
I set up to meet with Shaneisha only for an hour and ended up talking to her for two-and-a-half hours.
We started off with basic questions but it was the way she was so relaxed speaking that made the conversation stray off script.
Shaneisha Jones attended the high school at Hartford's Insurance and Finance Academy in Connecticut. Also known as "High School Inc," this high school focused on preparing their students for careers in business and insurance.
Jones used this school to open the doors to a diverse view inside the business field.
"I always wanted to be a lawyer, but going to High School Inc., introduced me to the role of a corporate lawyer. After seeing their salaries, I knew this was for me," said Jones.
The high school would take their students on field trips to various major insurance companies; these trips provided personal conversations and luncheons with different employers of these companies.
"I've spoken with the vice president of Prudential, corporate lawyers from United Health Care, and my high school even helped me get an internship at Traveler's," Jones noted.
All these amazing perks, and only in high school!
It was also attending High School Inc where she learned about AIC.
One of her high school teachers is an AIC alum, and it was him who told her all about it.
She applied, took a visit and decided to make this her new home for the next four years.
She is now heavily involved on campus, while still finding time to work and maintain her hobbies.
Jones is on the e-board of the Women's Organization and the Queen Bees dance team.
She's also a regular member of the Outdoors Club and Student Activities Board, and is of course a Staff Writer for The Yellow Jacket.
We asked her to share a secret nobody at AIC knows about her.
"I ride horses," she answered. "I've been riding since I was seven and I love it. Horses are such smart animals, they're honestly my favorite animal."
Jones is very comfortable in her own skin. She wasn't nervous speaking with the YJ, and the interview felt more like a conversation amongst friends.
When it came time to ask a few personal questions she didn't hesitate with opening up. "Is there anything about school that you wish you would of did differently?" we asked.
Jones answered calmly, "I would of tried maybe a little bit harder (she laughs). I feel as if I try hard but I know I could of given certain things more effort."
Jones is graduating this upcoming spring, May 2018. Before she leaves, I recommend everyone to try and have one conversation with her.
She has been through some things, and has been to some amazing places. Her pleasant, warm, and opening personality will pull you in to want to know more about Shaneisha Jones.