"Sweet Charity" sweeps the stage at AIC
Hang on for a minute...we're trying to find some more stories you might like.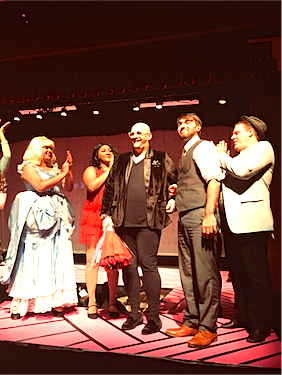 As the fall semester winds down, the AIC Theater Arts program graced us with yet another phenomenal performance.
With this year's fall production, the Theater crew dazzled the AIC community with "Sweet Charity." The show ran Friday through Sunday, Dec. 1-3, and enthusiastic crowds packed the Griswold Theatre all weekend long.
As AIC's Director of Theater Frank Borrelli pointed out, "Sweet Charity" brought drama, song and dance to the campus
"Sometimes we need to laugh, sometimes we need to cry, sometimes we need to do it together," said Borrelli.
Bob Fosse's "Sweet Charity" is a whimsical musical based around Charity Hope Valentine, played by Allison Reardon.
Charity is a hopeless romantic struggling to find a "good man" because of her job as a dancer.
Settling time and time again with married, confused and affluent men, she undergoes a sense of self-worth when encountering Oscar, who was played by David Padilla.
Oscar gave Charity a sense of hope, making her realize she didn't have to throw herself at someone for them to genuinely appreciate her – although it didn't seem to work out for them in the end, she did gain a new perspective on life and "lived hopefully ever after."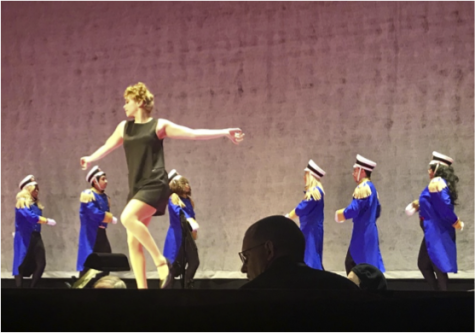 Said Reardon, "Learning all of the words took some time and remembering the transitions. Dancing and staying on key, it's pretty tough. My favorite scene was when I was dancing on stage during 'Brass Bands,' and I look at all of my castmates and audience. In that moment, I really get that euphoric feeling and realize this what it's all about… having a good time and it's such a special moment to me."
After the show, the YJ had a chance to catch up with a few more cast members and gained some insight on their thoughts of the show an experience in its entirety.
Jessienyia Climes-Rivera, who played the part of Carmen in the show, reflected on her "Sweet Charity" experience.
"I thought it was good. I enjoyed the company of the people on the cast with me," Climes-Rivera said. "It's a lot of work, you guys see it and it's just one thing. We are really in here late trying to get it right."
Sophia Oliveira said that being in the show was a rigorous, exciting and fun experience.
"My favorite part was the choreography rehearsals," said Oliveira, who played the part of Frenchy.
"It's so satisfying to work so hard for months and months. On this one particular move of your finger that you can't get right, and then you do. Then you get to do it for a whole bunch of people and they get to see the product of your struggle and they thank you for it," Oliveira said.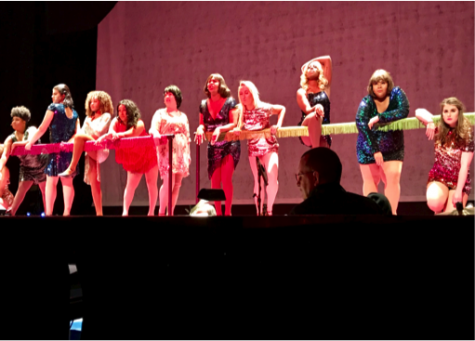 Oliveira continued, speaking of her pride as it relates to performing for the AIC community.
"It's so cathartic, it's gives me this sense of joy that people like what we're doing. Which helps us to continue what we do with all the support of the college community. So it's really fun," she added.
Taylor James-Mathurin played the part of Daddy Brubeck, and said she found the experience fantastic.
"It's the lightest play I think Frank has ever done," James-Mathurin said.
"We do a lot of inspirational, looking into the darker side of the world, kind of thing. Now we're trying to get people to laugh, give people a good time," she added. "'The Rhythm of Life,' which was my song, was the most fun part I've ever done. The process of building the set and making sure the audience visualizes the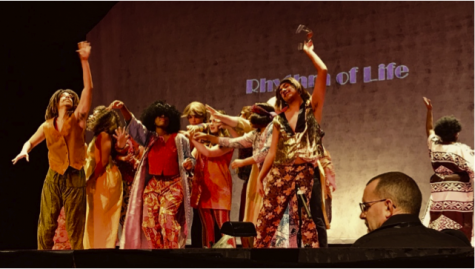 different rooms was the toughest part."
Overall, it was another successful season in the Theater department. Borrelli was overwhelmed with joy on the outcome.
The spring can't come quickly enough, and we can only imagine what's in store next for the AIC community.