AIC gives thumbs up to "Time's Up" movement
Hang on for a minute...we're trying to find some more stories you might like.
After many women in the movie industry came forward about being harassed by powerful people this past year, on the first day of 2018, a group of more than 300 female Hollywood actors, producers, directors, writers, executives and agents, launched the movement "Time's Up."
The campaign was first announced in an open letter published by The New York Times and La Opinion – a Spanish-language newspaper.
Many big and well-known names signed, such as actresses Meryl Streep, Nicole Kidman, Reese Whiterspoon, and Natalie Portman; lawyers Tina Tchen and Nina Shaw; producer Shonda Rhimes; and Universal Pictures executive Donna Langley, just to name a few.
Here at AIC, students support the movement.
"I think it's about time for women to take a stand and for the society to change," said freshman Josefine Stendahl.
The initiative – that was created last October – has as its purpose to try to fix the industry's gender gap, as well as creating a defense fund to help provide legal support to anyone that has experienced abuse, sexual assault or harassment in workplace.
Many big names have donated, having raised more than $15 million already.
AIC sophomore Brianna Garcia expressed support and admiration.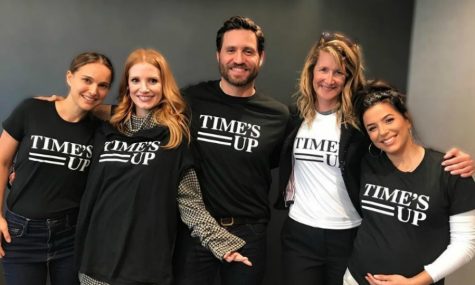 "It's incredible that these women are standing up for each other and it's amazing how a lot of people are supporting it," said sophomore Brianna Garcia about the cause.
Freshman Ada Guilera Martinez also supports the campaign.
"It's great to see that a group of women are working together to make the world know and notice the differences and injustices between women and men that is going on a daily basis," Guilera Martinez said.
The movement was launched several weeks ago, just a week before the first award show of the season, the Golden Globes, on Jan. 8.
At the end of December, a rumor started to go around the web that a "blackout" would happen at the show, stars would be wearing all black to the ceremony. After the letter was out, it was then known the cause: "Time's Up" was organizing and encouraging everyone, not only the guests attending the ceremony but everyone that wanted to support, to wear the color to show solidarity to those who have experienced sexual assault or harassment in workplace.
Also, actress Michelle Williams had the idea of other actresses bringing activists as their dates to the Globes. Meryl Streep took Ai-jen Poo, director of the National Domestic Workers Alliance and co-director of Caring Across Generations campaign, Michelle Williams took Tarana Burke, founder of the #MeToo movement and Amy Poehler took Saru Jaymaraman, a workplace justice advocate for restaurant works, just to name a few of the eight activists that were present.
Another high point of the night was Cecil B. DeMille Award for lifetime achievement winner, Oprah Winfrey's emotional speech.
When she took the stage, she talked about inequality, gender and race. She also told Recy Taylor's story, a woman who was raped and fought for justice saying, "Recy Taylor died ten days ago, just shy of her 98th birthday. She lived as we all have lived, too many years in a culture broken by brutally powerful men. For too long, women have not been heard or believed if they dare speak the truth to the power of those men. But their time is up. Their time is up."
Hollywood seems to slowly be changing and 2018 seems that is going to be another important year for all women.