Longtime Springfield Republican sportswriter Garry Brown visits AIC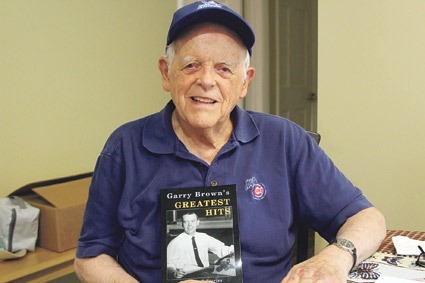 Just about anything important in sports has been seen and covered by Garry Brown.
On February 9, the AIC alum visited Professor Patrick Johnson's Feature and Opinion Writing course to talk about his book, Garry Brown's Greatest Hits. Brown has been a sports reporter and columnist for The Springfield Republican since he graduated from AIC nearly 65 years ago.
Brown has a column called Hitting to All Fields that still runs weekly; the idea came from another column called Nobody Asked Me But, by Jimmy Cannon.
How does he get ideas for all his content?
"People write my column for me, they send me stuff all the time," he said.
He told the story of how he met his wife, Mary, right on the campus at AIC.
"When I was a freshman in 1949, world lit class, nice looking girl sitting next to me, next class there again, another, I said, 'boy she must really like me," Brown recalled. "Turns out seats were in alphabetical order, but I guess it worked out because we've been together ever since."
Brown graduated in 1955 from the College, and jokes that they are definitely an AIC family, with him, his wife, and two of their children being alumni.
He took a year off from AIC at the end of his freshman year because the Springfield Union offered him a job.
For many years during his long career, Brown wrote about the Boston Red Sox, along with many other great stories.
Brown has been covering sports for an eternity, noting that he has seen the evolution of journalism throughout the years.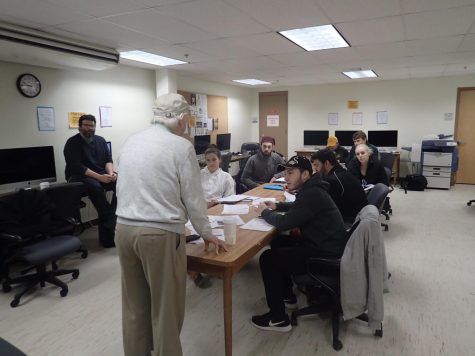 "Well let's tell the truth again, I was covering the '67 World Series where the Red Sox turned the franchise around and ended up covering the 2004 World Series because I vowed I would see them win a World Series before I retired," he said.
Brown recalled an important story to him about Tony King, a baseball player who played for the American Legion Post 21.
"If we don't put some sort of monument up to honor this team they will be forgotten. It's such a good story; I think it could be a movie if someone knew how to write a screenplay for it. It's that good of a story," said Brown.
Brown looked back on one work-related moment that touched him as it relates to this story.
"Two weeks ago, I went to a birthday party for Tony King, the captain of this team, and the only survivor. When the monument went up, that's when I started covering this story," Brown said.
The Post 21 team had won the Northeast American Legion championship in the 15-16 age group. So, they went down to North Carolina to compete in the Legion World Series, which they had been in two years prior.
When the team arrived, they learned that their one African American player would not be allowed in the hotel or on the field with the team. This brought tremendous discomfort to the young men. They had a team meeting to discuss what the team would do.
Brown noted that the coach at the time said, "we could play without Bunny and still probably win the tournament."
A captain replied, "But if Bunny cannot play, I don't think any of us should."
When they returned to Union Station, "They were welcomed home like heroes," Brown added.
Bunny went on to play baseball at Springfield Tech and was undefeated as a pitcher.
When asked if any of the people he interviewed had trouble remembering, Brown simply explained how vividly each member, who was still alive, remembered this story. One of the people Brown interviewed said, "it wasn't the right thing, it was the only thing to do."
He added, "this all happened about 13 or 14 years before Jackie Robinson broke the color barrier in baseball, and a long time before Martin Luther King Jr.'s I Have A Dream speech."
Brown said that his story about Post 21 may be his favorite story in his book. A lot of research went into him writing this story – looking for background information, and how the stories were written in the day, in order to "do it how it should be."
Post 21 gave up sponsoring baseball after this until 2010.