Learning leadership
Hang on for a minute...we're trying to find some more stories you might like.
Scholars from surrounding colleges in New England flooded Platform 9 ¾ to hop on the Hogwarts Express and landed in the magical world of Massachusetts College of Liberal Arts for their 23rd Annual Leadership Conference.
Thanks to the new director of AIC's Center of Student Engagement, Theresa Johnson, four of AIC's student leaders –Ariel LaFreniere, David Tobe, Samira Abdul-Karim, and Keon Wedderburn — had the opportunity to engage amongst other leaders from surrounding schools in the area.
Once we arrived, the sorting hat chose our destiny placing us by house. Between Hufflepuff, Ravenclaw, Slytherin, and Gryffindor, we each went our separate ways to indulge in a light breakfast to get the conference going.
Before the workshops began, Kyla Jenee Lacey, internet viral poet from "Chilando" (better known as Chicago, Orlando, and Atlanta) was the keynote speaker.
Her presentation "Leaders Aren't Made to Fit In" focused on the points of acknowledging and embracing differences in ourselves as well as others that allow us to stand out from the pack. The presentation ensured that we know to never be afraid to "shoot our shot" like Michael Jordan once said.
Once she wrapped up, we flew off on our broomsticks to the morning sessions which were broken down in two parts. The various workshops were led by current students as well as MCLA alum, covering topics like "I know witch you did last night" (about time management).
I learned to be B.A.D.D. in that session — Breathe, Assess, Determine, and Do — which is very helpful as a student leader, because we need those factors to maintain and develop new an old relationships.
Other workshops such as "Identity Blindness" allowed students to identify factors within themselves they should embrace to help be stronger leaders among others.
Our very own Yellow Jacket, CSE director Johnson, hosted that workshop, which was by far one of the most poignant and influential of the morning, really making us dig deep and think.
"I wanted to provide an opportunity to gain and build on their leadership skills," Johnson stated.
Not only did it break the ice amongst the other leaders within the workshop, but opening up to each other also allowed us also to get a chance to relate to people whom we would have believed to have nothing in common with.
"Our amazing mentor definitely moved you out of your comfort zone with some of the stories and responses you hear or tell during the workshop," LaFreniere said.
Concluding the morning session, we regrouped for an enchanted lunch in The Great Hall. Polyjuice potion, butter beer candies, and the infamous Bertie Bott's Beans filled the tables and nourished our bodies during lunch.
The afternoon sessions seemed to fly by.
"What Tinder Can Teach You About Advertising" was one of the sessions that caught my attention. This was run by a current student, sophomore Natalie Torrey.
Of course, we automatically think dating app, but what was very clever to me was how she took the simplicity of the app and gave us the perspective of how it relates to presenting ourselves to not only others but also future employers, aswell as how we advertise for organizations we belong to.
"The Magic of Activism" was the last workshop of the day, yet the most interactive of the afternoon.
Michael Obasohan, alum of MCLA, did an amazing job of breaking down the four major pillars of Activism, which every leader must learn in order to efficiently advocate for those belonging to the organizations.
Overall, the conference turned out to be a valuable trip full of all sorts of leadership tips and knowledge.
"After leaving the conference I retained so much useful information and strategies to help myself and may others in the same situation, this is an organization that should be considered at AIC to help our students grow and learn from each other," said LaFreniere.
The experience of engaging with other student leaders on a lovely Saturday morning really put into perspective the progressiveness we as a generation are trying to pursue.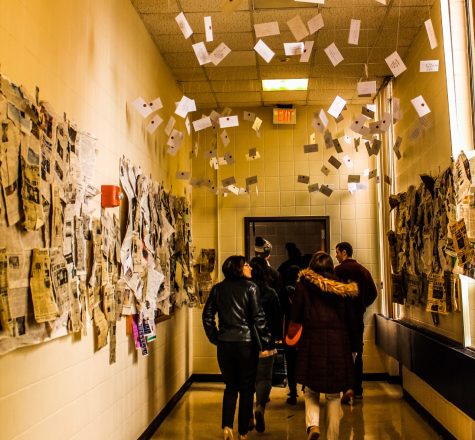 Although change does not happen overnight, conferences like theses allow the motivation to ignite quickly within students.
Theresa Johnson has taken the initiative to bring a weekly opportunity to fellow Yellow Jacket students interested in leadership workshops here on campus called "Afternoon Treat."
"Afternoon Treat" takes place every Wednesday at 2 p.m., located in the Center for Student Engagement. Free treats will be provided — pencil it in your calendar for an exquisite afternoon delight.