Cupid is in the air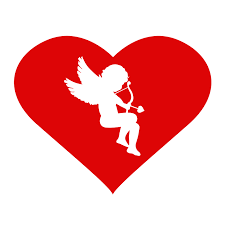 Hang on for a minute...we're trying to find some more stories you might like.
Valentine's Day is a time to celebrate with hearts, candy, and kisses.
People think that Valentine's Day is only for people who are taken, but it is also a day to love your family.
It's really just a day of love.
It's true, the day was originated from a guy from the past called Valentine who expressed his love through a letter.
However, now times and generations have changed to show the love to certain people, family, or friends.
There are plenty of ways, to say "I love you" to that special someone, but I guess for Valentine's Day the best way to show your love is with chocolate, cards, and flowers.
Instead of the day just being another day of loving each other, giving each other gifts is what people want to do.
Sometimes, if you don't have a valentine, you can just treat yourself. Treating yourself is not that bad — it's cheaper, and you can get or do whatever you want to, just pleasing yourself and no one else.
Some things to put you in the mood of loving are some love songs. They help you get the girl/guy to make it more romantic. Or even if you're single, you could just be miserable listening to the love songs.
All kidding aside, setting the mood right with a good song is always the best choice.
Being different or simple with what you do is fine, because honestly Valentine's Day is another day. But giving a little something never hurts. It's that thought that matters; it can be hand made or store bought.
With the evolution of Valentine's Day from when were kids tonow an adult in college is way different. It's just interesting to really see how far we have come to make a valentine's day happen.
For children, especially those in elementary and middle school, the day was a huge thing.
Teachers had students make Valentines for their parents and loved ones, and add the Valentines goodie bags to receive cards from other students.
The best thing was also the fact that the whole day at school was spent having fun eating junk food and having assemblies. Basically, it was a day at school that was a party.
As for in high school, hormones started kicking in more so it's when people were actually starting to become couples… Only because all girls seemed to care about was to have a Valentine.
So, some high schools would make it a spirit week with assemblies to celebrate Valentine's Day and any sports for that season.
So many people keep their high school sweetheart, but most grow up and move onto college leaving everything behind.
As a college student, Valentine's Day seems to just be another day that not most people make that big of a deal of. The only things people will do on campus are maybe some activities they make for the day, whether it be in the Stinger or in a res hall lobby.
Other than that, if you're single, I know a lot people either hang out with their friends to eat or drink. However, for couples there could be different stories of how romantic you are or if you and loved one have your own idea.
Just going around the campus, I asked some of the people at AIC how to have a successful and healthy relationship:
Sydney Thompson weighed in on her long and faithful relationship.
"When it comes to a relationship honesty and communication are key to building a successful relationship. Take it from me, I've been with my loved one for seven years now and soon we will be getting married" said Thompson.
Lui Sitama gave tips on how to keep a stable relationship.
"Something I would like to say for keeping a strong relationship is pick someone who is your best friend and will always be trustworthy to you," Sitama said. "Also keep in mind every relationship is not perfect it comes with anger, sadness, excitement, and happiness. It's always up and down and when you have that and your loved one still stays by your side that's when you know it's real."
Tommy Clark has his own philosophy on Valentine's Day.
"Sometimes when things go left it's good to talk to your significant other and just making sure you guys are on the same page," said Clark. "Communicating with your significant other is a factor, especially having to listen to make sure both parties are happy at the end of the conversation. With that, you must be okay with making adjustments with your routines. Sometimes I like playing games and she likes watching movies, so I have to adjust to make time for what she wants."
Overall, I hope that you all had a great Valentine's Day and just know there is somewhere out there that loves you.
After all, you don't need chocolate or a teddy bear to prove that.