Hurricane Michael sends fear through AIC students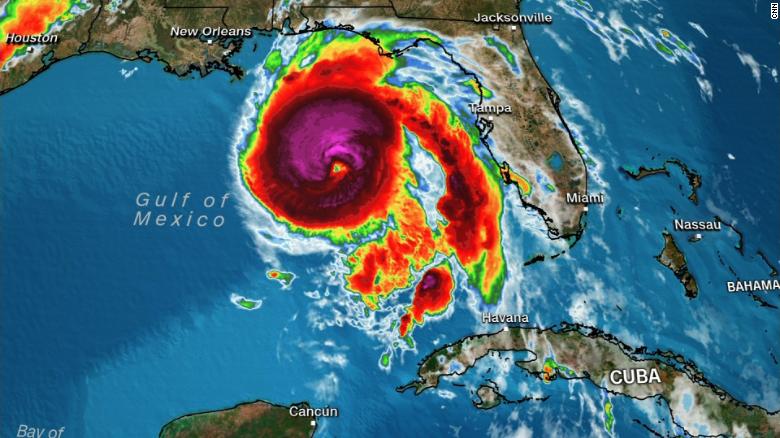 Barely a month after Hurricane Florence destroyed parts of the Carolinas, what was supposed to be a tropical storm turned into a second disaster, this time for the state of Florida.
The evening of September 13th, Hurricane Florence began to make its way into the Carolina coastline. With some calling it the wettest tropical system to hit North Carolina, according to World Vision, parts of the Carolinas were left with roughly 3 feet of rain.
Florence took the lives of at least 53 people, and has left an estimated $44 billion worth of damage and lost goods to the Carolinas. Thousands of people lost their homes due to extreme amounts of flooding.
Then, less than a month after Hurricane Florence left North and South Carolina in devastation, Florida was hit with what is said to be "one of the most powerful storms to ever hit the continental United States," according to The New York Times.
Hurricane Michael caused annihilation to over 200 miles of Florida's panhandle when it came crashing in on October 10th.
Mixing up an outpour of seawater, Hurricane Michael had sent a terrifying pool of water through the streets, engulfing entire neighbors.
Over 375,000 people were ordered to evacuate the western part of Florida, as Hurricane Michael took control over the Panhandle.
Hurricane Michael slightly missed the ranking as a category 5 storm before it weakened and moved up towards the states of Georgia and the Carolina's, who were struggling to get over the tragedy that just took place.
So far, it is known that at least 33 people died due to what turned out to be a nightmare of a storm. Each day, updates left more distress than hope with closed down roadways, more soaring waves, and suspended emergency services, according to the New York Times.
Residents who were not able to evacuate gathered in closets and stairwells as they watched the hurricane tear through their homes, cracking walls, overturning metal fences, and flattening cars.
In over 167 years, of collecting storm data, Hurricane Michael has been proclaimed the strongest storm to hit the Florida Panhandle on record.
According to Florida's government, over 6,700 people were found in 54 shelters, with over 30,000 customers without power before the storm hit. Due to other misfortunes, over 388,000 businesses and homes had also been stripped of power.
Here at AIC, these hurricanes bring a great feeling of concern and unease to the student body.
Sophomore Emilee Giacondino states, "You hear about tropical storms all the time, we even have them up here. But storms like these, ranking at almost category 5, are really scary. I have family living in Florida, my grandma being one of them, and it's a hard idea to process that this type of disaster is happening right at their homes."
"My grandma came to Connecticut to visit my mom just before Hurricane Michael hit. I'm so lucky that she did, but it's extremely upsetting that she could go back there and have no home to go to," Giacondino stated.
Junior Jocylyn Deome stated, "We have so many students here from all over the world, and a majority of us know someone who lives or goes to school in Florida, and it's extremely frightening to hear about these hurricanes but not know exactly detail for detail what's happening. We are just stuck assuming the worst."
Around 1.5 million meals were prepared and distributed to residents who were not able to evacuate during this storm, with almost 1 million gallons of water to go along.
Hurricane Michael's rapid maximization gave Florida residents and emergency facilities little time to prepare for its destruction.