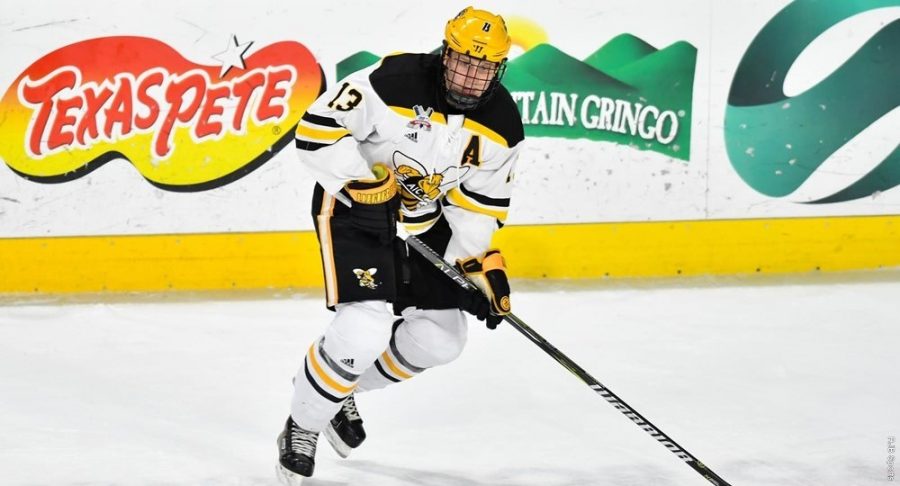 (Photo from https://aicyellowjackets.com/news/2018/10/19/mens-ice-hockey-ice-hockey-battles-back-for-draw-vs-bentley.aspx?path=mhockey)
After the first four games of the season the Yellow Jacket Hockey Team is off to a great start so far going 2-2-1.
In pre-season the team was ranked to finish in fifth place out of eleven teams but none of the players were satisfied with that.
Red shirt defenseman Jeff Baum stated, "We're not going to settle for fifth place we expect to be top four in this league this year. We have some new talent and a few transfers including myself and I think the future looks really bright for this young group in here.
"Night in and night out we compete and we can compete with anyone in the country right now, whether that is in conference or if it's out of conference we come to play every night," Baum added.
Insiders believe that the stigma around this team right now is were ready to play with anyone, for this team goes into games expecting to win.
The team opened the season against the number five-team Providence College and players fit right in. The Yellow Jackets ended losing the game 3-1 but by no means were we out of the game at any point. There's still a bunch of work to be done before the team is ranked or anything like that but they're not worried about that right now.
All energy is focused on coming to work each and every day and holding each other accountable on the ice and pushing each other to be their best every single day.
When the players are holding each other accountable for their work that when the bar and the level really starts to get raised and how we get better as a whole.
Junior forward Kyle Stephan had a few words himself.
"This team this year is different than any teams I have been on in the past," Stephan said.
"We come to the rink everyday with a smile on our faces wanting to get better we really enjoy what we do and we don't take a day for granted putting on the yellow jackets jersey. A lot of guys are hungry to get better and that's what is really elevating this team. The younger guys come into this program and watch the older guys and how they carry themselves and do things here and it forces them into the culture," he said.
Elijah Johnson came from the University of Las Vegas and he talked on the transition from a Division 1 ACHA to Division 1 NCAA.
"First off everyone here is a professional at what they do," Johnson said.
"The way they carry themselves, the way they eat, the way they workout, the way they compete its just so much different on and off the ice. The biggest thing on the ice is the pace. Everyone can play at this level where last year there were about four or five good players on a team and the rest were average, everyone at the division 1 level can play which makes it fun and a lot more competitive," Johnson said.
This season the Yellow Jackets expect to take big strides in the standings and hopefully try and add on to the Eric Lang era here at American International College.