Hines Hall living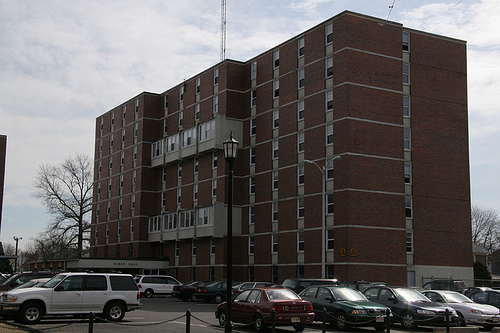 The idea of being away from home may sound very daunting at first. Leaving your comfort zone to live in a place where you may not know anyone can be scary at first.
However, Hines Hall ensures that you get that, 'home away from home' feeling. Located in the heart of the main campus, Hines Hall is an eight-story co-ed building which accommodates more than 300 first-year students.
Students living here have different tones and experiences so far when asked about what it is like to live in Hines.
"I moved in earlier than most students being that I'm an athlete and it's been good so far. The building is very close to the dining commons, and to my classrooms," said Colin Spaulding, a freshman soccer player from Houston, Texas.
He also admitted that it was very hard for him to adapt to life in Springfield at first.
From the change in scenery to the drop-in temperature-everything is still new to him. With more than half of the students being athletes, it helps strengthen the bond amongst everyone.
During weeknights, there is always an event which intends on bringing everyone together. Reneldine Plymouthe, a freshman from Worcester, talked about her experience so far.
"In Hines, there is a unity and a family feel. Even though most of the people here are from a different country/state, the vibe is still there," she said.
The layout of the rooms consists of two closets, two study desks, two mirrors, and a window. There are two laundry rooms, a lounge, and a study room in the building. However, most people prefer to get their work done at the library rather than in the study room.
Living in a confined space with someone who doesn't share an interest in the same things as you can be worrisome at times. Sometimes, individuals need time and space to themselves.
Athletes also tend to have it hard on them at times for that very reason. After hours of competing on the field with your teammate, you now must share the same room with him/her.
The Residence Director is very approachable: He arranges events and activities based on everyone's interest.
The 'Six-Week Challenge' begun in late August and it has been very beneficial in helping students settle down right away.
Many might disagree and point out only the negative things about Hines. Everyone is entitled to their own opinion.
Several Hines students were all in agreement. They felt as though, the noise at times made it hard to stay indoors.
Despite that, it still offers a valuable experience.
Many people miss out on the entire college experience by opting to live in an apartment or even at home with their parents.
Staying right on campus exposes you to many things that you could've missed out on your own. Your first year may or may not be what you expected. A lot of things will seem unusual at first, but it'll become a routine quickly.
You will get used to wearing flip-flops to take a shower. You will get locked out of your room at least once. Suddenly, running on six hours of sleep will seem like a norm.
The moment you say your last goodbyes to your parents is when it all begins.
The freedom you always dreamed of is finally here.
Your first year will be over before you know it — make sure it was a great one when you look back at it.