Three things to be thankful for at AIC
It's November, the season of giving. Now is the time to reflect on this year and all that we have to be thankful for. At American International College, many opportunities await right under your noses.
Here are three things AIC students can be grateful for this year!
1.    Scholarships
Everyone can probably use a little extra cash. Whether it be for books, supplies, or food, AIC finds a way to provide for the needs of its students.
One of the scholarships that AIC offers each year is the Monica Harlow Royston Scholarship which awards $1,000 to its winner. To be eligible for the scholarship, one must have a minimum of 3.0 GPA, an interest in humanitarian studies, and a member or ally of the LGBTQ.
What's special about this scholarship is that it was started by Mimi Royston, AIC's Chief Information Officer, in memory of her loving wife, Monica Royston. Every year Mrs. Royston awards this scholarship, it gives her and her family the opportunity to celebrate the life of Monica in an amazing way and positively impact the experience of an AIC student. Not to mention its support towards the LGBTQ community.
"They're sharing something that very personal or they may be afraid to share and here's a safe place for them to share and to get this positive and financial reinforcement,"  said Royston.
In the spirit of giving, students can look forward to applying for this scholarship next year school year in the spring.
2.    The Honors Program 
Every year the Honors Program goes on a field trip based on what they are learning in their courses.  Based on the seminar in the narratives of exploration, this year, the honors program took a trip to Plymouth Planation.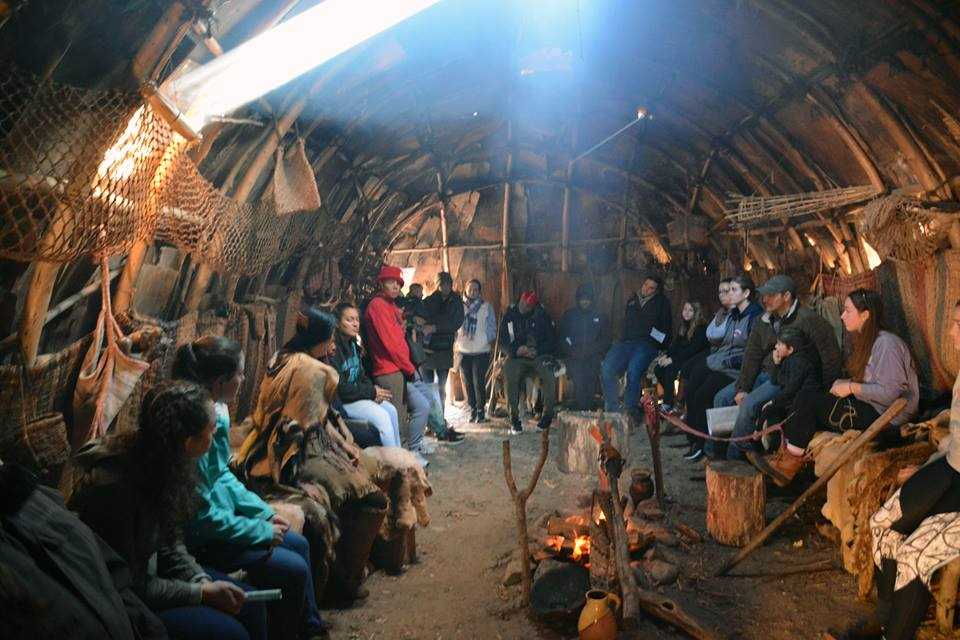 Fifteen students and English Professor Robin Varnum were able to experience what it was like in the native American villages when pilgrims began to settle.
Also, with Thanksgiving approaching, it's very important to be aware of American history surrounding this time and how it impacts society today. The attendants had the joy of speaking with some of the residents of both the native American and pilgrim villages.
They gathered around campfires and told stories, witnessed the firing of muskets, and learning how Native Americans built their canoes. They had the opportunity to hear old folktales about how the earth came to be.
"I enjoyed the woman's story of how the crow turned black," said Professor Varnum.
The tale goes that God sent fire to the world through a crow. Because the crow could only carry the fire in his beak, it burned its throat and feathers and burnt its feathers. The crow complained of his ruined voice and black feather to God and God replied that now no one will want to cage him for his voice or pluck him for his feathers. The crow has a lot to be grateful for this season as well.
3.    English Professors
While it is true that ALL professors are important and can make an impact, English professors always seem to hold a special place in our hearts. Many students still remember their high school English teacher, or they somehow made an impact in their students' lives.
Their ability to connect literature to the real world and teach us different philosophies carry on with their students even after they graduate.
AIC English Professor, William Steffen, is one who strives to do just that.
"I've always been drawn to literature because of the ethical aspect of it. I like to put myself in a character and image what I would do in that situation," said Professor Steffen.
This also points to how literature and English professors have shaped so many of our lives because they learn and figure out how to deal with certain situations before they are even put in them. English professors are some of the wisest professors and should be something greatly appreciate through our college days.
This thanksgiving, there are tons of things to be grateful for than many of our ancestors fought and died for. AIC has given so much to make sure everyone has the best experience possible while going through their college career, which is such a crucial time in students' lives.
Students may get caught up in classes and activities and begin to take some of the things we didn't have in the past for granted.
This time when you sit down and the table and prepare to eat and bond with your families, take a moment to think and ask "What am I thankful for?"