AIC reacts to California shooting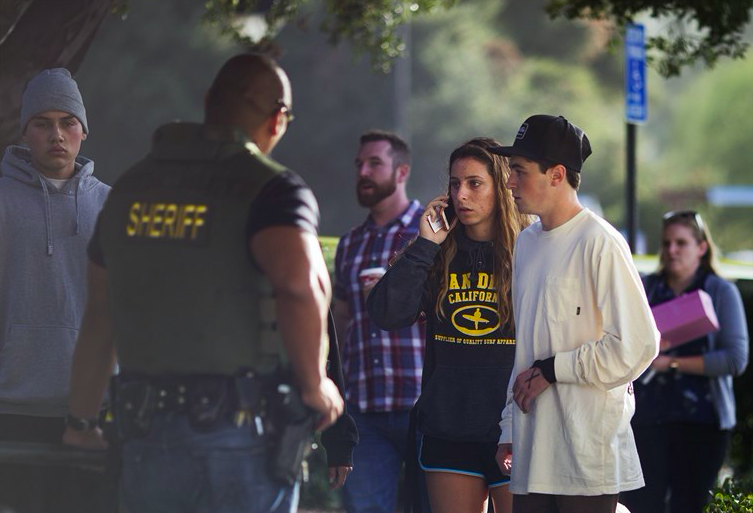 Like others around the country and the world, AIC students had one overwhelming reaction to the Nov. 7 mass shooting in California that took the lives of 11 people: Horror.
Students interviewed said they cannot imagine the terrifying scene at the Borderline Bar & Grill in Thousand Oaks, California, when a gunman walked in and opened fire. Many of the victims were college students like themselves.
Sadly, moments like these are ones we are all getting used to.
AIC sophomore Reagan Nichols said she finds these tragedies terrifying.
"Even though this shooting and so many others haven't happened in front of me, it's absolutely terrifying to hear about them," Nichols stated.
"I can't even imagine what the survivors are going through, I can't imagine what the victims' families are going through. This is happening so often, it's so hard to wrap my head around it," she added.
The scene was, in fact, horrifying.
Setting off smoke bombs to create a distraction, the man wearing dark clothing and a baseball cap shot a security guard at the entrance of the bar, then turned and opened fire into the crowd of people.
The Borderline Bar & Grill was a host of multiple college girls 21st birthday parties which began around 11 p.m. the night of the shooting, with around 150 people at the bar.
The gunman, identified as Ian D. Long, 28, was shot and killed on the scene after he had killed 12 people. Ian Long was a Marine Corps veteran who had served in Afghanistan.
Last year, at a country music festival in Las Vegas, a gunman opened fire killing 58 people, making it the worst mass shooting in American history. There were hundreds of survivors of that mass shooting, and a few of them had also survived this one.
One victim, Tel Orfanos, walked away from the Las Vegas shooting which took place over a year ago, but sadly did not walk away from this. Orfanos, along with 11 others, did not survive this tragedy. A reported 22 others had been injured.
These tragedies are an absolute nightmare, and are unfortunately being seen on a regular basis. Just a few weeks prior to this shooting, a gunman entered a synagogue in Pittsburgh, opening fire and killing 11 people.
These moments are ones that will be remembered forever, by the victims' families, the survivors, by everyone.
At AIC, students like senior Mary Bates shared similar feelings.
"I feel like every day I hear about a different shooting, mass shootings, school shootings, shootings at churches and shopping centers. It has gotten completely out of hand," Bates stated.
"It makes me fearful to do anything, to go anywhere. I worry constantly about my siblings and my friends being in school. And I worry when my friends ask me to go out for drinks. I don't feel safe anywhere," she added.
According to The New York Times, "With mass shootings a fixture of life in this nation, Americans in large gatherings – at churches, concerts, public squares – have become accustomed to thinking through the possibilities, eyeing exit routes and weighing escape options, should the horrific happen."
And that is just what AIC students think of. Senior MacKenzie MacLeod stated she can't go anywhere without being extra cautious.
"After everything that has gone on in the past few years, with the increasing of shootings, with them happening anywhere, everywhere I go I make sure I am focused the entire time," MacLeod stated. "I'm afraid if I let my guard down, if I'm caught off guard that I could be a victim of a shooting. And it's terrible that we have to feel this way. It's getting completely out of control."
Mass shootings are becoming a norm here in the United States. This should not be something that we are so used to, but unfortunately it is. Something must be done to prevent innocent lives from being taken.