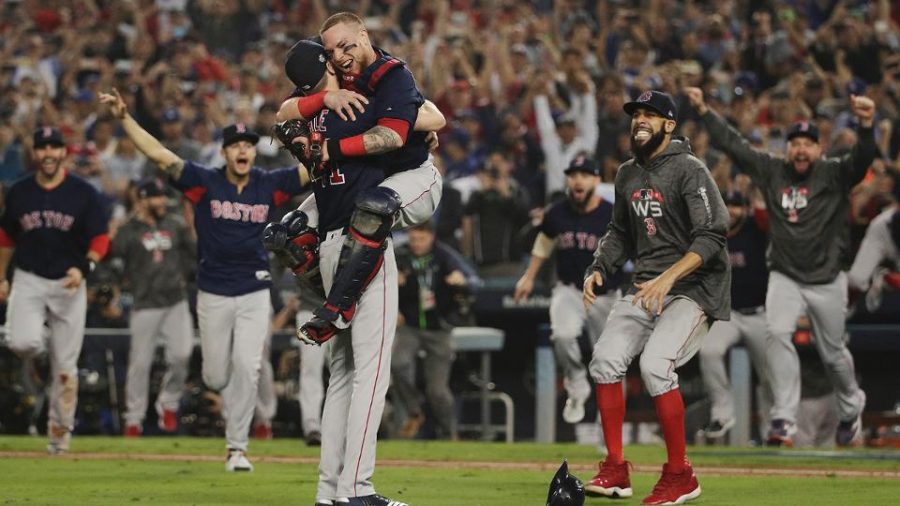 Boston punched its ticket in Game 5 of the American League Championship Series as starter David Price recorded his first postseason win.
The victory came one night after a dramatic game that included a controversial fan interference call and a stunning ninth inning diving catch from outfielder Andrew Benintendi.
Needing a win Sunday to finish off the Los Angeles Dodgers, the Red Sox scored two runs in the first inning to take an early lead and would never relinquish it en route to a 5-1 victory in Game 5.
Postseason hero Steve Pearce clubbed Clayton Kershaw's sixth pitch of the evening over the left-field wall at Dodger Stadium, and Los Angeles never recovered. He added a solo homer in the eighth inning. This captured Boston's fourth title win in 15 years.
Boston lost only three games in October, winning 11 of 14 postseason contests.
They bested the 100-win New York Yankees in a four-game American League Division Series, beat up on the 103-win Houston Astros in a five-game ALCS, and made quick work of the National League champion Dodgers in the World Series.
The Dodgers' only win of the series game in Friday's 18-inning Game 3.
Mookie Betts was on fire during the entire regular season but in the playoffs he was a little quiet. In Game five of the playoffs the clinching game he added a solo home run in the eighth inning that sparked the team and put a dagger in the Dodgers.
Betts said, "It's amazing. It's a dream come true. AC [Alex Cora] told us from the first day of spring training that we could do it. We believed in ourselves, we believed in him, and we went out and executed." "It was amazing just to know I contributed at some point. These guys picked up all the slack that I left. That's what a team does," he said.
It is very rare that a team that had the best record in the regular season ends up winning the league and winning the playoffs.
The Red Sox truly did something remarkable that them and the entire city of Boston should be very proud of. The way that the team all came together and each guy on their team did their part is something every baseball kid growing up should learn from.
"Honestly, everything. We did everything extremely well all year long [and] stuck together. When we were going through a rough patch, nobody panicked. It was day-to-day all year long, and that was very special," one player was quoted as saying following the big win.
The question is how are the Red Sox going to turn out next year will they be able to repeat what they did this year and have another historical season?