From one country to another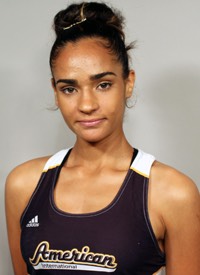 For Yasmine Graziani, AIC is truly a home away from home.
The AIC senior and Cross Country and Track team standout is an international student from Bezons, France – a mere 3,500 miles away.
What does she miss most?
Definitely the food. Well, maybe the food.
"Oh wait! Of course, I first miss my family and friends," she said with a laugh. "It was really hard last year when I came here because I've never lived far from my family for year."
Graziani is a cross country and mid-distance runner on the team but back home she was their national champion in the 800-meter indoor and outdoor in 2016 and 2017. She also models back home as well.
After her graduating next year in 2019, she plans to move back to France to continue running but only the 800m because she does not like cross country at all, as she has expressed deeply multiple times during the cross-country season. She says she prefers the 800-meter and gets her 800-meter specialty from her mother who was a professional runner in France.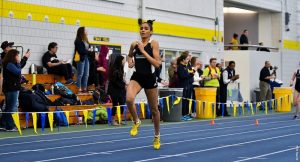 As for homesickness, Graziani said it is not really a problem because she had the team to help her since she did not know any English.
However, she admitted it was difficult at first.
"But with time I am getting better," she said.
Graziani elaborated on the differences from French colleges and American colleges.
"In France, I had full days of classes, so it is very hard to find time to train," she said.
She also stated that in French colleges do not have sports teams. Students who want to participate in athletics must do it separately from their academics. There are no competitions, matches, and/or meets in college in France.
Rather, athletics is independent and private, she said.
That makes her all the more appreciative of her time in the classroom as well as on the field here at AIC.
"We have a track here, we have a trainer here, but in France, we don't have this," Graziani noted.
She said she likes college here, because there are a lot of resources here that come altogether when you commit to an American college. Student athletes from France might consider coming here for school as a way to combine their interests. Sports in places like France isn't that significant to where that can be a profession with a potential for a career.
At AIC, she feels a part of a community even as she keeps her French identify. She is looking forward to graduation, when she will be one of many international students recognized.
"I feel like they already do that like in graduation you can come with your flag of your country, so it is nice," she said.
Graziani seems to be content with the attempts that AIC has made to make international students feel more comfortable here.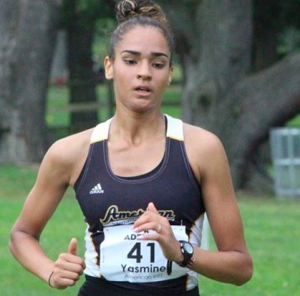 For example, one of the biggest clubs here is the International Students Club, where members can travel the country as field trips to cities they've never been to here in the United States.
Students like Graziani think that AIC is doing a great job with making international students feel welcomed as they should be. The college welcomes students from all over the world to feel comfortable here in this country and give them an opportunity for a good education and life here as well.