Brumadinho dam bursts
Hang on for a minute...we're trying to find some more stories you might like.
In Brazil, a dam broke and hundreds died.
Brumadinho is a small city of Minas Gerais, located in the Southern region in Brazil.
In the day 25thof January a tragedy happened in this city. Unfortunately, a barrage broke and destroyed everything around of that city. A recent report noted that 256 employees, contractors and residents were still missing. Some 192 people have been rescued alive.
A company called Vale, a big company in Brazil, was in the charge of this barrage and also, they had one of the companies over there, to take care of the barrage.
So, when it broke, they lost their company, their employers and everything around that.
During this period in Minas Gerais is very common to rain. Because of that, the barrage was holding a lot of quantity of water making the sea gets over flood and the barrage was too old to support that quantity of water.
The company vale mentioned on one of their social medias that the barrage was very old and nobody was taking care of it because it an inactive place.
To make the explanation better, this picture is showing the barrage after it gets broken.
It is sad when we imagine that over there was place where people could walk, and when the houses were around there, people had a life over there, animals lived there.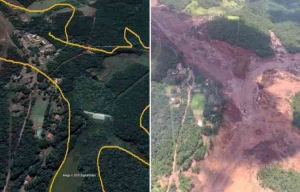 Now, after many days, everything became mud and the rescue police, army force, and a lot of groups of rescues are trying to find people alive. Even the citizens who live near to the city are trying to help to find people and animals.
The next image shows the situation of Brumadinho before and after the tragedy.
So far, the number of people dead are 84 and 256 people are still disappeared in the rubbles.
People from the whole world can donate money, food, clothes, everything to help those families who lost everything.
Banco do Brasil's current account is in the name of the local city hall to receive donations: agency 1669-1, account 200-3 (SOS Brumadinho), CNPJ 18.363.929 / 0001-40. The resource will be used for urgent needs of the affected local population, the bank said.
The whole Brazil is together on this mission to rescue people and animals. The hospital located closer to the city is attending all the people who needs treatment, and people still believe to find more people, the only thing that the rescues groups cannot do right now is give up.
How much people work on it more people will be found.
God bless Brumadinho.