Patriots win the Super Bowl…again!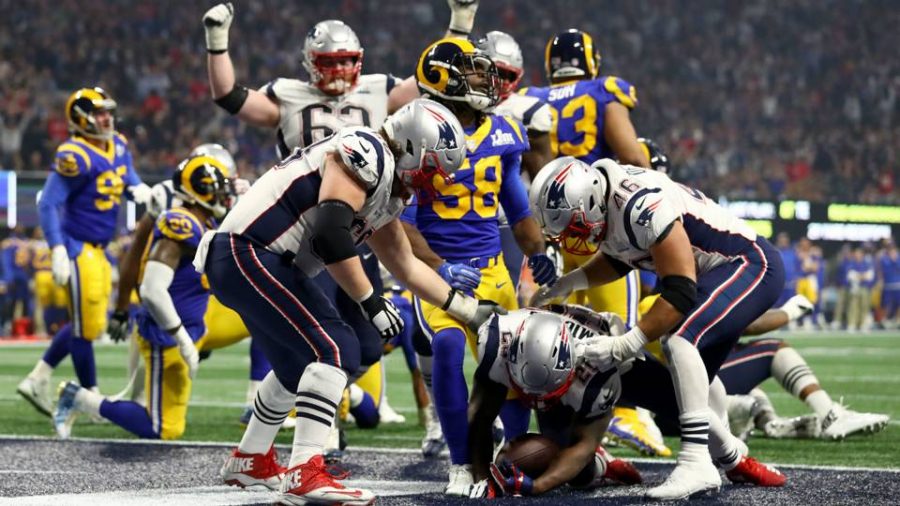 On Sunday, February 3rd, Tom Brady and the Patriots were in a familiar spot; playing in their third Super Bowl in three years.
AIC students had their own watch parties in their dorms, at the Stinger Pub or streamed the game on their phone. In the end, they all watched Tom Brady win his sixth Super Bowl ring.
The New England Patriots came into Super Bowl LIII with a two-point favorite to win but the team, as a whole, said they felt like "underdogs". This season was a long, hard-fought season for this Patriots team trading some key players, before this 2018-2019 season began, that brought them to the Super Bowl last year, Brandin Cooks and Danny Amendola.
Losing easy games and some very key games also made this Patriots team seem like they were not the same as previous ones that have gone on to win Super Bowl. Many sports commentators, Max Kellerman, Stephen A. Smith, etc have said numerous times this season that the Patriots "dynasty was over" and Tom Brady was "falling off a cliff."
For Tom Brady, this Super Bowl win was about proving the haters wrong, saying after a post-game interview that "Everybody thinks we suck…We'll see."
The Los-Angeles Rams came into this game with a better ranked offense and defense than the Patriots. The LA Rams, week after week, were ranked number one on ESPN power rankings but they lacked experience when it came to performing in big games. No player on the Rams team had experienced a Super Bowl, including their Head Coach Sean McVay.
Fans everywhere thought it would be a high scoring game because it was the number one ranked offense (Rams) vs number four ranked offense (Patriots). A score of 3-0 after the two quarters is not what many viewers seen coming.
The Super Bowl halftime show was performed by Maroon 5, Travis Scott, Big Boi, and Spongebob Squarepants which was a highlight for many viewers.
After watching the halftime show and the commercials, that still did not satisfy the viewers. Many viewers took to Twitter, saying that this was the most boring Super Bowl of all time. Viewers at AIC thought the same thing.
AIC sophomores Jasmine Almeida-DaSilva and Gakeesha Bernadin agreed. Both are Almeida-DaSilva and Bernadin are Patriots fans but they said the game was "boring because of the low score."
After three quarters, the score was an agonizing 3-3.
The excitement finally came in the fourth quarter with 9 minutes and 43 seconds left on the clock Tom Brady started the New England Patriots' game winning drive.
The drive ended with, according to ESPN, Brady throwing to Rob Gronkowski, Pats' Tight End, for 18 yards. That great pass and great catch put the Patriots on the Rams two-yard line. Then Sony Michel, Pats' rookie running back, rushed it into the endzone, making that touchdown the only touchdown scored in the game.
The Patriots pulled out the win with an interception by Stephon Gilmore and a missed field goal by the Rams kicker Greg Zuerlein.
The final score was 13-3, for an exhilarating Pats win.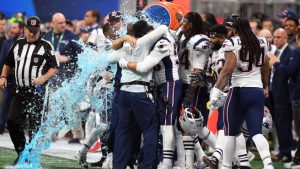 According to ESPN, Julian Edelman had 10 receptions and 141 yards which led him to win Super Bowl MVP.
Tom Brady made history with the most Super Bowl wins by any player, and him along with Coach Belichick, have appeared in the most super bowls by a coach or player, 9.
This was Tom Brady's second time beating the Rams to win a Super Bowl title. The first time was in 2002, Brady's first year as the Patriots' starting quarterback and winning his first Super Bowl ring.
According to CNBC, 98.2 million people tuned in to watch Super Bowl LIII.