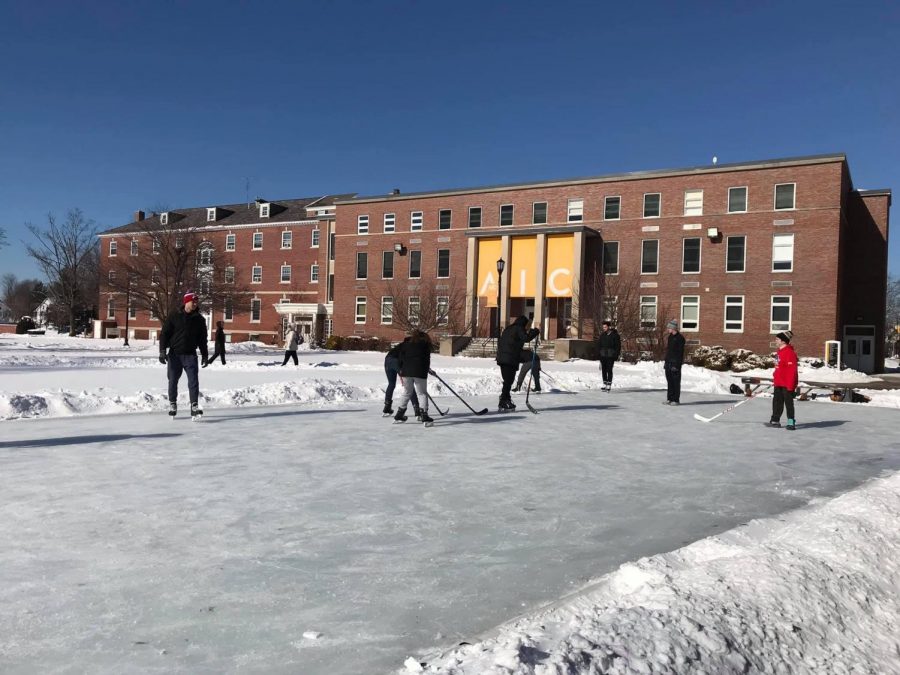 As ever, the outdoor rink at AIC this year has been a huge success.
Many people from different sports teams came out and participated skating with the Yellow Jackets hockey team on the cold winter day in early February.
The skate happened to land on one of the colder days of the year where there was only a high of 14 degrees out. But that didn't stop some fans and teammates from coming out and skating with the hockey team.
All the boys were all bundled up wearing a bunch of layers but once they got skating around a little, the fourteen-degree high didn't stop everyone from having a fine time.
There were four members of the AIC hockey team that helped with the skate and lent a helping hand for the people that weren't so good at skating.
Austin Albrecht, a sophomore forward, Darius Davidson, a sophomore forward, Sam Best, a freshman goaltender and Chris Theodore, a freshman forward were all out there taking lead and helping out.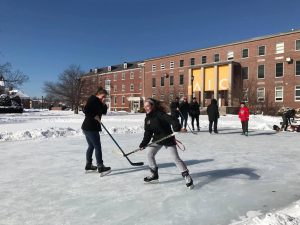 Best said it best.
"It is really nice to get outdoors and play where the game was originally created and to do it with my fellow classmates made it an even more special experience. I believe we should do this every year, I'm all for it and ill help out every single year," said Best.
Davidson also had to agree with Best and he had some of the same thoughts.
"The cold didn't stop the fellas from coming out and helping out with people that don't get to skate everyday like we do," Davidson said.
"It was a great atmosphere and I really enjoyed my time today on the outdoor pond," he added.
Helping out and teaching people about hockey and giving them a chance to skate or learn how to skate is what it is all about.
The team takes advantage of being able to skate every day, and forget that many people would love to be in their shoes and be division one hockey players, so to give back or to help in any way, the hockey teammates are all for it and willing to help in the fun.
The skate on the pond landed on the weekend where AIC played Niagara back to back at home.
The Yellow Jackets swept the Purple Eagles and claimed a six-point lead in first place in the Atlantic. This is the first time in years the Yellow Jackets have been so dominant in college hockey and have a chance of making a lot of special things happen come playoff time.
All this is thanks to head Coach Eric Lang and his staff the Yellow Jackets have an opportunity to win the Atlantic Division this year when the final four teams meet in Buffalo New York at the Harbor Center to compete for the Atlantic Title.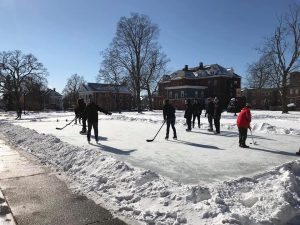 Whatever team wins the Atlantic division gets an automatic bid to the NCAA tournament to compete for the National title.
But there is a lot of work to be done before the Yellow Jackets get to the big stage and it all starts this weekend when they face off against Eric Lang's previous team Army West Point.
Again, thanks to everyone coming out to Campus center and participating in the skate with the hockey team. Hopefully next year we can get some more people outside to skate with the team!