Underrated departments that offer a lot
Have you ever visited the Noonan Writing Center?
For those of you that haven't, it is located in basement of the Shea Library, inside the Center for Academic Success. Almost every class here at AIC requires some type of formal academic writing and all students will have to write an essay of at least three pages or more in either MLA, Chicago Style, APA, or ASA format more than once while in college.
Everyone who writes also knows that writing isn't easy. Writers' block, poor writing skills, and bad grammar seem to affect us all in one way or another. For those reasons, The Noonan Writing Center is here to offer students assistance with beginning and finishing their paper while helping to improve their writing skills.
According to a convenience sample of AIC students in the Dining Commons, only 10% of the participants had been to the Writing Center. Some students didn't know that the Writing Center existed and were relieved to find out that there are resources on campus to help students with essays.
"The writing center's staff is not only helpful, but they are also very upbeat and friendly overall," ssaid Onaysia Martinez, a work study student at the Writing Center. "The atmosphere in the writing center is a welcoming one that allows you to feel comfortable amongst your errors or mistakes."
Before Martinez became a work-study, she too was a college student looking for help with her English Composition paper. With the help of her tutor Kathy Riccillo, she was able to develop solid points and make changes in her writing that resulted in her getting a stellar grade on her assignment
The Writing Center offers students assistance in brainstorming, thesis development, and the overall organization and structure of the paper. After reviewing the paper with a tutor, the writing center sends an online receipt with notes from the session to further guide the student with their essay outside of the center.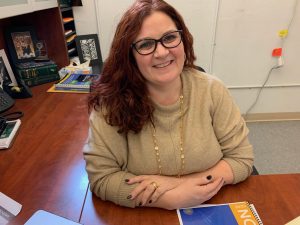 While primarily for formal academic writing, tutors are also trained to help students with informal academic pieces such as scripts, poetry, and creative stories. They even introduced a YouTube channel, named The AIC Noonan Writing Center, which provides tutorials on how to use APA, MLA, ASA, and Chicago Style formats in academic papers.
"Meeting with a tutor encourages students to think of a draft as a process and not just something to put together quickly the night before it's due," said Dr. Lori Paige, an English Professor and the Chair of the English Department.
"A good essay should evolve over time, through several drafts, with feedback along the way," Dr. Paige added.
She suggested to students that by having the Writing Center review the rough draft of the paper, tutors are better able to catch the mistakes and lapses in logic that the student usually miss on their own.
Not only does the Writing Center provide access to writing assistance, but it also offers a Textbook Exchange for AIC courses.
The Textbook Exchange allows students with textbooks they no longer need to trade textbooks with students who are currently taking the course. The exchange is already in effect. Students can go directly to the Writing Center to make a donation or trade one to receive one.
"It important because it builds a community through students exchanging books rather than paying for books," said Julie Bodnar, the Director of the Noonan Writing Center. "It will cut down cost significantly."
The AIC Textbook Annex is also finding ways to cut costs for textbooks.
Located downstairs in the Schwartz Campus Center, they are open the first few weeks of every semester. After that period, students can visit aicshop.com or visit the AIC Campus Store to purchase or sell their textbooks.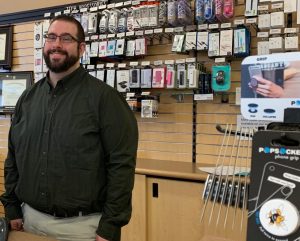 "We try to have as many used textbooks as possible and recommend students rent them to save as much money as possible," said David Greenberg, the campus store manager.
"We also price match to Amazon and Barnes & Noble, you receive the difference to make the match on a store gift card and you can use this on anything in the store," Greenberg said.
The use of textbooks and writing assignments are two of the most popular methods used in education.
Resources like the Noonan Writing Center and AIC Textbook Annex help to ensure that students don't feel overwhelmed by expensive textbooks or long papers.
To schedule an appointment with the writing center, visit AIC.edu/CONNECT and click on the Noonan Writing Center.
Don't forget to stop the AIC Campus Store located next door to the Saremi Center for Career Development to check out their deals on AIC apparel and their upcoming raffles!