Psychology research presentations
Students enrolled in Experimental Psychology at American International College held a poster session recently, demonstrating their independent research to the campus. Students were asked to conduct a survey of their choice and rule out the outcomes and see if all the information was what they believed it would be.
This project was worked on throughout the whole semester. The students were asked to brainstorm ideas and questions that they wanted to do further research on.
The topics varied and the students explained their thoughts about how they would do things differently.
Some of the topics that were included were, student athlete's performance and attitude, stress levels, results of being privileged, does pizza price make a difference on what someone thinks of pizza, how much sleep is needed, and how many people get the flu shot.
The students had to survey 50 peers on their topic and take that information and draw out a conclusion.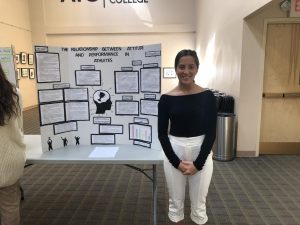 Georgia Barnes a junior majoring in Criminal Justice and Psychology, did her research on whether student athletes attitude affects their performance.
"Before I conducted my surveys, I thought that athletes that have lower attitudes would not perform as well in their sport," Barnes stated.
The statistics proved that of the teams surveyed, Men's basketball had the highest best attitude. Barnes found that although the relationship between attitude and performance was weak it was still there causing student athletes to either perform well or did not perform at their best.
Students were required to add in what their limitations, and improvements would be. Barnes stated that if she were to do this research again, she would want to focus on the wins and losses of each team because overall success could vary from person to person.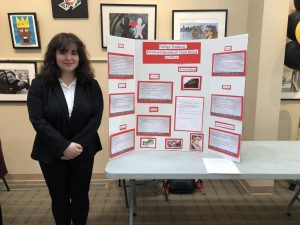 Rosa Giberti a student in the experimental psychology class did her research on whether college students perceived quality of food differently based on the price.
Giberti explained that she went into a class with two of the same flavor pizza from the same place. She then told the students that one was more expensive than the other.
As people could probably guess price does factor what people think of the pizza but overall what Giberti found was that students who ate within a half hour of her conducting the experiment affecting the research differently.
Giberti found that the results for the experiment did not support her hypothesis and that there was no significant difference.
Another student Cristina Dubinevici conducted her research study on "Students Attitudes and Practices Towards Vaccinations in the School Settings."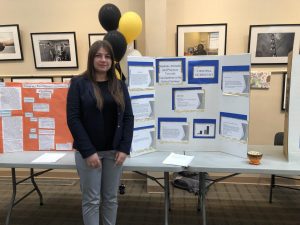 Dubinevici wanted to find out if students who got the flu shot got sick less than students that did not get the vaccination.
Dubinevici surveyed 50 students 34 being female and 16 being males. She found that of the 13 for that got the flu shot 3 of them got the flu and out of the 34 people who did not get the flu shot 13 of them got the flu and the rest did not.
She discussed her beliefs on why this might have happened. "Because I did not survey that many males I was wondering if the males that I surveyed only got vaccinated because they were required to due to their major or their sport, or job," Dubinevici stated.
Students learned a lot throughout this project and look forward to the possibility of perfecting their research if they choose to further their studies.