Men's rugby takes on a new sport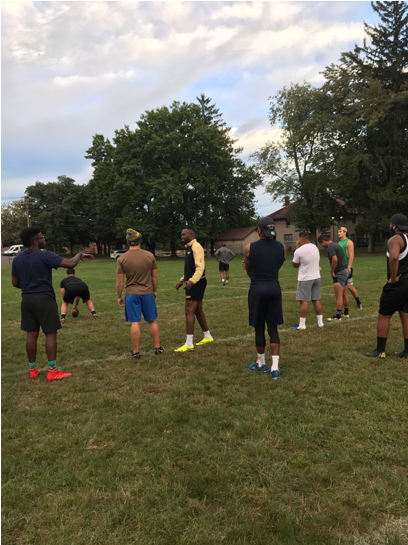 The American International College men's rugby team was taking on a new sport. On the afternoon of Sunday, September 8, the team headed over to the turf field to hold their version of the NFL Combine. Twelve members of the team came to show what they had in hopes of solidifying their spot on the intramural flag football team.
Sophomore Jake Sweigard was not worried about his position on the team. Sweigard is in his second year at AIC and also his second year on the rugby team. Sweigard was running routes for the quarterback to show off his hands and speed. When asked what his expectations were for the Combine, Sweigard said he was there to "make everyone look like fools."
Newcomer to AIC, Alex Bennett, comes from a background of football. After playing in high school in Texas where high school football is glorified, he is excited to see what the team can do. Bennett expects "nothing but perfection. We're going to be the best damn team in this whole entire place." Bennett has big hopes and dreams for this team after seeing what participants had to offer. Bennett also wants to prove something to himself. After suffering a tear in his right ACL, he wants to prove that "you can bounce back from an ACL injury and be the best to ever play."
Mid-combine, Kyle Brown '21 saw a lot of potential from the team. Brown also comes from Texas and has seen great high school football teams. Brown said that the team has "good talent, but has stuff to work on." Brown was out there playing multiple positions, showing off his versatility to the team. Versatility is important in a game that is seven versus seven. There is a lot of field to play on, and typically speed players are valued. After seeing what everyone had to offer, Brown had to say that the "team is a bunch of new players trying to mesh together, but we'll get there with a lot of practice."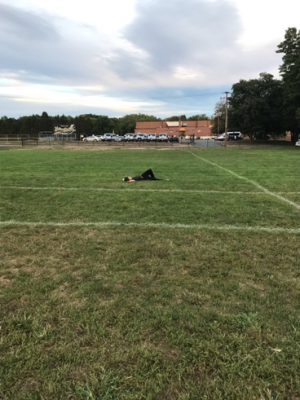 Quarterbacks Carm Consolino '21 and Chandler Cotton Jr. '20 had a lot to say about the team. Being the quarterbacks, Consolino and Cotton see what everyone has to offer and their skill set, as they sit back, read the defense, and watch their receivers run routes and catch balls. After the Combine, Consolino said that it "went well. There was a lot of competition out there, and guys battling for roster spots. The plan is to really take over intramurals this year." Cotton was very hopeful in the team and liked what he saw. Cotton said, "We're going to win the entire league because our athletes are top-notch."
While Consolino did see a lot of hustle out there, he was not impressed with some of the skills he saw: "A lot of guys have shown they cannot catch the ball. In seven on seven, that is very important because it is a fast-paced game."
The men's rugby team would like to prove that they are also multi-sport athletes. They want to show that they can take the football league by storm and make a name for themselves in the intramural scene. The team has been working hard in the preseason as they get ready for their opener on September 22 at Rutgers University. They are now taking some leisure time to have some fun.