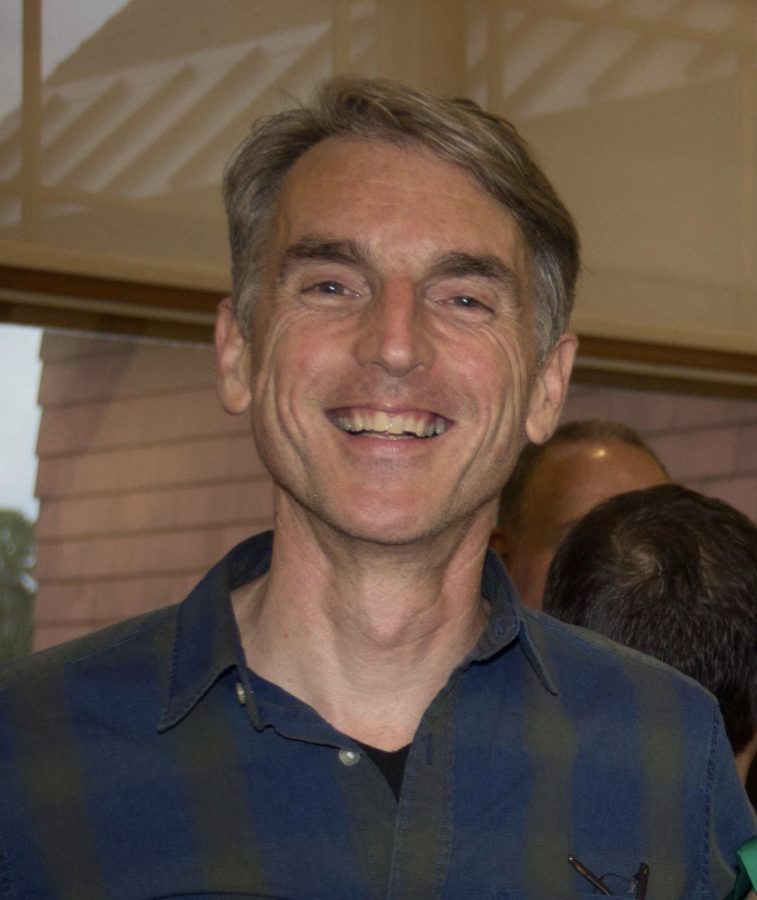 Fred Hooven
Since beginning his journey at American International College in 2013, Frederick Hooven has used his past work experience in Public Health to help teach students and benefit the local community.
Hooven's distinguished background includes a PhD in Epidemiology, a master's degree in Human Service Management, and a bachelor's degree in history. At AIC he is the Director and Associate Professor of Public Health and teaches in the Doctoral Physical Therapy program as well.
When Dr. Hooven was asked why he chose to work in Public Health, he stated, "After doing some work out of college, I saw that the human service system that was supposed to be in place to help people didn't actually work the way people expected it to."
He saw a chance to help people, but he also had a motivation that had more personal meaning to him.
"My father got pancreatic cancer, which he died from within a few months," Hooven added. "There was very little research on it and doctors didn't know much about it. So I became very interested in research."
To start his career, he worked on connecting people with basic services they needed, managing care administration, evaluating and collecting data, and working in health policy for the Massachusetts Medicaid program.
To comment on this work he said, "I quickly learned it was possible for a young person like myself to actually make a difference."
Hooven took advantage of this opportunity by exploring work in a variety of areas throughout his career, which eventually lead him back to graduate school at the age of 39 to earn a degree in epidemiology.
The Centers for Disease Control and Prevention defines epidemiology as the method used to find health outcomes and diseases in populations.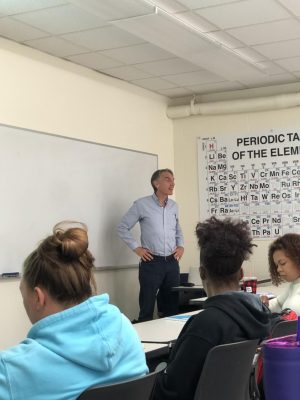 Dr. Hooven then started working at Umass Medical School where he taught in the Determinants of Health and researched work barriers for the disabled. His main work focused on a 6-year international study on osteoporosis and risk factors for fractures in post-menopausal women.
He had many amazing experiences working in Public Health, but Dr. Hooven really loved teaching and wanted to live closer to home.
The decision to join American International College came in 2013 after being asked to teach a class here by Gail Stern, who is a professor of Physical Therapy.
Commenting on his decision to leave the research world, Dr. Hooven said, "I was able to get much more involved with community health projects and people nearby."
His impact at AIC began immediately through the creation of the undergraduate Public Health program in 2013-2014 with the help of colleague Dayna Campbell, who he claims is his "right-hand partner" to this day.
At most colleges, Public Health is usually offered as a graduate program. But in the early 2000's, it started to transform into some undergraduate programs.
Dr. Hooven talked about why AIC has fit him best. "It is a smaller school so I could do a lot of things that I couldn't at a larger school," he said. "I had a lot of autonomy to shape a program, and I enjoyed the diversity of the school here."
Today the program is growing and becoming more popular among students at AIC because of the variety of career opportunities in the health field.
"The community here in Springfield really supports our students," said Dr. Hooven, "especially our Public Health students. And that has been one of the things that has allowed the program to run so well here."
Some of the classes at the undergraduate level that Dr. Hooven teaches are Introduction to Public Health, Global Health, Epidemiology, and Public Health policy. He also teaches a few courses at the graduate level and in Physical Therapy.
Blake Bennett, a freshman in Global Health this year, commented from a student standpoint by saying, "It is much more interesting and fun having someone like professor Hooven who brings his real-life work to activities in class."
When I asked Dr. Hooven how his past work has helped him teach, he responded, "I think every professor brings experience from outside the classroom to their teaching. Whether it was my work in health policy and planning, as a human services advocate, or as a health care administrator, I am always thinking of situations I faced and how to use them for teaching and to prepare the students for careers in the field."
Along with his teaching, Dr. Hooven is involved with the Mason Square Health task force, which is coordinated by recent AIC graduate Ariana Williams, who was one of his students. He is also involved with a few other groups to help combat public health issues in Springfield.
His work deals with a range of public health issues, from simple things like teen smoking, to gun violence, nutrition, and much more that can have big impacts on people.
When talking about his time at AIC so far, Dr. Hooven remarked, "I love to see how students grow and how they surprise me over our time together. I have learned that everyone has so much potential and I just feel really lucky to be here."
If anyone has questions for Dr. Hooven regarding the Public Health program, they can reach out to him by finding his email on the school website.