Navigating different paths as a student might be worth the risk
Choosing what you want to do with your life is a daunting task that is only amplified when it's time to attend college. The experience is different for everyone, but there seems to be a common fear of not knowing who or what you want to be as a college student. For Dean of Students Matt Scott and public health major Jordyn Dewinkeleer, making a change in the middle of their academic careers was an important part of the journey.
There is often a stigma about being unsure about the path one has chosen in school. Whether it be that a student is undecided, has changed their field of study a few times, or doesn't finish their degree as fast as possible, it seems like someone is always judging. Sometimes it could even be the student judging himself or herself.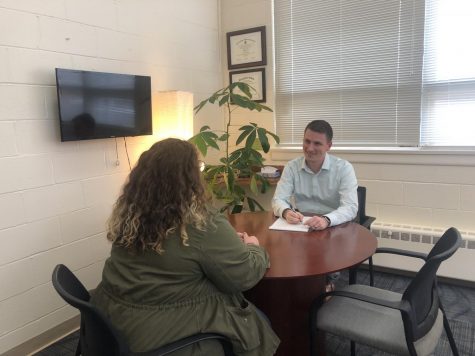 Matt Scott, the Dean of Students at AIC, shared his experience of finding what he wanted to pursue and how he got to be where he is today. "When I first started undergrad," Scott said, "I actually started as Emergency Medical Service Management… I was an EMT. I worked on the ambulances in Springfield for about eight years. About halfway through that, I decided that I was going to change my major to Finance because I realized once you got up into management, you're not really going out and responding to emergencies anymore. You're just running a business."
The change was a positive one for Scott. "I switched into Finance because I liked it," he commented. "I liked spreadsheets, management, logistics, and operations—that type of thing, so I got my Finance degree from Springfield College." After completing that degree, Scott went on to begin a Master's of Business Administration program at Western New England (WNE). He said, "I didn't know what I wanted to do with myself so I said, 'I'm a Finance major, so I might as well go get my MBA.'"
While at WNE, Scott acted as a Resident Director (RD) and discovered that he loved working with the Resident Advisors and felt good about the impact he could have on students. "I liked the atmosphere, I liked the programming, I loved all of that stuff," he said, looking back on his time as an RD. Scott went on to say, "I realized I didn't even know that there was a master's degree in Higher Education Administration."
At that point in his career, Scott began to think, "Why am I doing an MBA? I don't want to get a general undergrad degree and then a general master's degree when I don't know what I want to do with myself." He explained how he decided to change direction and specialize, so he finished his year as an RD at Western New England, stopped the MBA program, and began the Higher Education Administration program at UMass Amherst.
When asked his opinion on changing majors or fields of study, Scott commented, "Ultimately, you are setting the stage for the rest of your life, so it's important that you build a foundation on which you can grow as a professional. If this means switching majors and pursuing something that lights you up, then you should do it!"
The phases that Matt Scott shifted through during his education can resonate with many students at AIC. Jordyn Dewinkeleer, a junior public health major, shared her story so far and her advice for those who may be rethinking what path they're headed down.
"I came to AIC as a nursing major," she said. "I had high hopes to succeed in the nursing program. However, I found out after sophomore year that I could excel more in public health." Dewinkeleer commented on feeling unsure of herself while transitioning majors, saying, "It can be depressing not knowing what path to take, but I was hopeful because I knew how many opportunities could come from the switch."
Dewinkeleer offered advice for anyone feeling the same way: "Even if you have no idea where you're going now, life will work itself out. There is always another door waiting for you to open it."
Matt Scott also shared his advice and reassurance for students who may be questioning themselves. He said, "Everyone is on a different path, and even those that may seem to have everything figured out likely still have many questions about their future. You write your own story, and a degree is not going to define who you are or what you can become. If you're in your first couple years, it might make sense to switch majors. But if you're in your senior year, it could be beneficial to complete the degree you've been working on and focus on your strengths and transferable skills. Look at me: I was a finance major in undergrad and now I'm a college administrator rather than working in a bank or on Wall Street."