With only a few weeks left of the fall 2019 semester, students are feeling their workload begin to pile up.
Everyone on campus is starting to feel a sense of stress as the semester begins to come to a close. Many students, including athletes and those who are working while earning their degrees, have schedules with very little down time.
Some students have advice for how to manage stress levels in the final push of the semester, and AIC offers several resources for helping students avoid and manage their stress.
The causes of stress can vary. Students may be worried about financial costs, grades, social life, and most importantly life after college.
Balancing school with life is a difficult task to accomplish, but once completed, it can make a big difference.
Nursing sophomore Alexandra Fish elaborated on how this time of the year is always stressful. "To help myself work through assignments," Fish said, "I make a checklist of all the work I have to complete and break it down so that it will be manageable."
Fish claims that smaller tasks are easier to manage and accomplish than large ones.
Fish noted that the quiet section of the library has helped her focus better with zero distractions. "It's always important to reward yourself after a challenging assignment," she stated.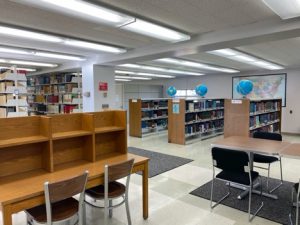 Fish also mentioned many different resources on campus that can help students be more successful.
AIC offers many tutoring services such as The Noonan Writing Center, Supportive Learning Services, and peer mentors. Students are able to receive assistance and guidance on their coursework and on other course materials they may not understand. Appointments and walk-ins are always welcome.
Sophomore hockey player Elijah Barriga noted that being an athlete makes time management a bit more difficult.
"I write down what I have to do for the next couple weeks and make sure I am on track so I will not be stressed out," Barriga said. He stressed that planning can really make a difference as well as taking a break.
"Rewarding yourself and getting away from schoolwork can sometimes be the best thing," Barriga stated.
Barriga also frequently uses the athletic facilities on campus. He feels that the benefits of exercising help in so many different ways.
"I am able to forget about what has been stressing me out," he said.
All students also have access to the Falconer Fitness Center. This is a great way to cope with stress while staying healthy.
The gym offers many different types of equipment for students to use. It also offers group exercise classes and even personal training sponsored by the American College of Sports Medicine.
Rose McCaffrey, a communication and political science major, spoke about the feeling of being overwhelmed.
She identified that the library and quiet rooms provide a great space for focusing on work.
"Going to bed early and getting a good night's rest is essential for success," McCaffrey noted.
McCaffrey feels it is important to take one day off during the week to reflect and relax in order to decrease stress levels. "It's also good to talk with someone you can trust and that has good advice," she added.
AIC offers many different resources on campus to help cope with stress. Dexter Health Services offers walk-in appointments for students to meet for counseling. Students are not alone and should feel welcome to talk with a professional at any time.
In order to stay organized during this busy season, simple actions such as finding or creating a personal space, having an agenda, and making a schedule that works can help minimize stress.
Activities such as yoga, meditation, and breathing exercises are small ways to aid in overall stress relief as well. It is best to try to understand the cause of stress so one can act and respond efficiently.
There are many methods available and resources on campus to manage stress in a healthy and successful way.