Injuries conjure opportunities for spring season of women's rugby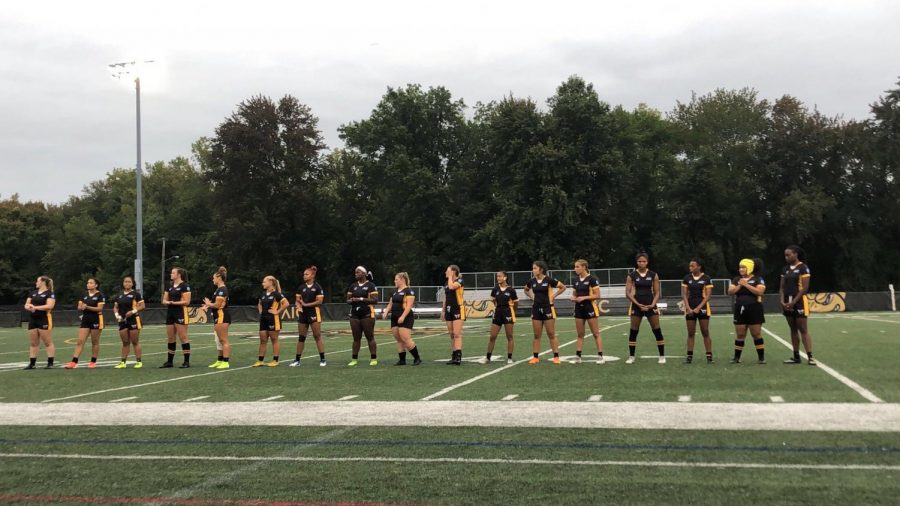 The AIC women's rugby team is gearing up for the rugby 7s season in the spring. Junior scrum-half Esther Aquino discussed the end of the 15s season this fall and looks forward to the season ahead.
With three key players out with injuries, seasoned Yellow Jackets may be looking to the first-year players to step up their game for the season ahead.
Aquino plays scrum-half on the AIC women's rugby team. This is her junior year at American International College and she is most excited about the Yellow Jackets spring season because it means playing 7s.
With the 15s season coming to an end, the Yellow Jackets have to prepare for the coming 7s season with a few setbacks. Several important players are out with injuries.
But Aquino is not daunted. She is looking forward to her favorite season. "I cannot wait for sevens," Aquino said. "This has been a very different team this year and I hope it gets better when sevens hit."
Aquino knows that having three athletes out with injuries is no small hindrance. "With three players that were not active to play, it showed how the team needs them on the field," she said.
Siale Alatini, who is a forward, Dominique Ray, who is also a forward, and Allyson Pothier, who is a captain and also plays fly-half, are all out with injuries. "Those are the players that have a great impact on the game," Aquino said.
With the new first-year group that came in, it is difficult to tell how the 7s season will turn out.
Alatini is coming back for the 7s season and Allyson Pothier may be recovered from her injury in time for the season as well. Dominique Ray will not be returning to the field, due to an upcoming surgery on her knee that will take her out for the entire 7s season.
The question is, will the new first-year group be able to fill in the important roles?
Kassidy Pothier is the team's captain on the field. She is a sophomore fly-half now, since her sister and co-captain, Allyson Pothier, has been injured.
 "I don't know what to expect from the team when it comes to 7s," Kassidy Pothier said while laughing.
 "I know what kind of talent we have. I'm just not sure how it will be assigned on the field with position-wise."
In 7s, the teams can only keep a roster of 12 players out of their full roster for rugby 15s, so every player needs to fight for a spot.
For example, Kassidy Pothier played fly-half during the 15s season, but she can play both in the back and in forward positions as well.
 "The freshmen have many different talents to give to the team," Aquino said. "They just need to know since it is time for the train for sevens. It's not going to be as easy as fifteens when it comes to a spot to play."
Kassidy Pothier also knows that filling the positions of her injured teammates is not going to be easy for the team's first-year players. "This is my sophomore year and last year we did pretty good on the field with a good seven," Pothier said.
 "But since we don't have Beth [Elizabeth Harvey] anymore, Ally [Allyson Pothier] may be cleared to come back. And Dom [Dominique Ray] is out for this season. We have to find replacements for them. The freshmen can fill in the holes. It's just that they have to be more tuned in and be focused."
Both players thought that the first-year players can adjust to benefit the team. Two of the first-year players from the full squad are already making a name for themselves.
Suley Guerrero plays wing on the field and is well known for her speed. Jamaya Hawkins is a forward who plays eight-man and knowns how to ram through a crowd.
 "This sevens season, I feel will be good," said Kassidy Pothier. "It's just who is going to go where when it's game time."
The Yellow Jackets are already very excited for this upcoming season. With the 15s season not going the way they had hoped, the team is determined to show what AIC is all about in their upcoming 7s tournaments this spring.