International Club helps students make the most of their time at AIC
International students at American International College have always had their support through the office of International Student Life and from International Student Advisors.
Over the past couple of years, some of these students have organized themselves into an International Club. In addition to supporting International students, the International Club plans events on campus, plans trips off campus, and promotes a message of diversity.
The president of the International Club, Ana Pesic, a graduate student from Serbia, explains the club's purpose and mission. "International Club is there to support our international students," Pesic said.
"Following your dream and coming from far away has to come with a certain amount of cultural shock. Our club is there to help them find all the resources they need, help them adapt and provide support."
The diversity of AIC's campus is compelling and unique. AIC's campus coves more than seventy acres and welcomes students from all over.
American International College in Springfield, MA was founded in 1885 by Calvin Amaron with a purpose of helping young immigrants, mostly French Canadians, to get their college degrees and to find their place in America.
Today, AIC is home to many students from across the United States, but also to many other students from all around the world.
International students at AIC come from six continents and every time zone, with one common goal—to learn, explore, and better themselves.
Not all international students are part of the club, but neither are all club members international students.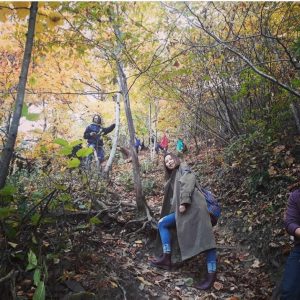 "International Club is primarily there to support students from all over the world, but half of our members come from the United States too," Pesic further explained.
"One of our goals is to share culture and experience, try different food, listen to foreign music, and try out some new stuff. Anyone who wants to share that experience with us is more than welcome to join or participate at any time. We want to show people where we are coming from, but we also want to learn about America and American culture."
Eliza Mullin, a club member from Springfield, MA and a communication major, said she joined the club because she loved the idea of sharing culture, learning about new places, and figuring out what her next vacation destination should be.
"I simply enjoy meeting people from all over the world," Mullin said. "They all have so many different experiences and ideas. We always have fun in meetings!"
While the aim of the club is to support students, Pesic also adds that there is a fun side of the club as well. "Our primary goal is to make international students feel welcome. But we are also here to explore and enjoy!"
She explains that F-1 student visas are limited in duration, so the club tries to help these students make the most of their time in the U.S. "We try to plan different activities for our club members so that they can get a chance to experience America outside of campus as well."
The vice president of this club, Yu Sun, who is a biology major from China, explains how they plan their events for the following semester.
"There are beautiful places and cities around our school. We elaborate our ideas to the Office of Student Life and they allow us a certain budget that we can use for our events."
Last semester, the club visited New York City and got a chance to experience the Statue of Liberty, Ellis Island, and the Empire State Building. They were able to take photos under the Christmas Tree at Rockefeller Center and drink coffee in Times Square.
"This semester, we threw a welcome party with a variety of different food, music, games, flags, prizes, and candy. Then we agreed on having a real New England experience, so we went hiking to Mount Tom and picked our pumpkins at a beautiful farm. Many of our students come from places where there is only one or two seasons. Experiencing fall in Massachusetts was a real pleasure for them."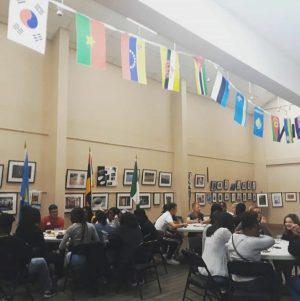 The club's next event coming up is a trip to Boston. Quacea Gardener, a nursing student from Jamaica, who is also the secretary for the International Club, is looking forward to this trip.
"So many people have signed up to go," Gardener said. "It will be a great experience. Being a foreign student, it is not easy to move around, so having a chance to go with a club is very appreciated."
Pesic noted that along with having fun and learning about each other's cultures, the International Club also promotes an important message.
"Apart from supporting students, having fun…exploring the area, learning about American but also each other's culture, we also want to show the world that so many of us, with such a variety of ethnic backgrounds, religions, races, skin colors, languages, and accents can peacefully live on such a small campus. So how come that the rest of the world can't?"
Their last event this semester will actually try to point this out. In the first week of December, the International Club will invite the AIC community, but also the surrounding schools in the Springfield area, to join them for a Candle Light event.
Their idea is to promote peace, to show the variety and diversity of AIC's campus, and to demonstrate how successful it can be with just a little bit of tolerance and an open mind.