AIC men's rugby fall to Iona and seek third place finish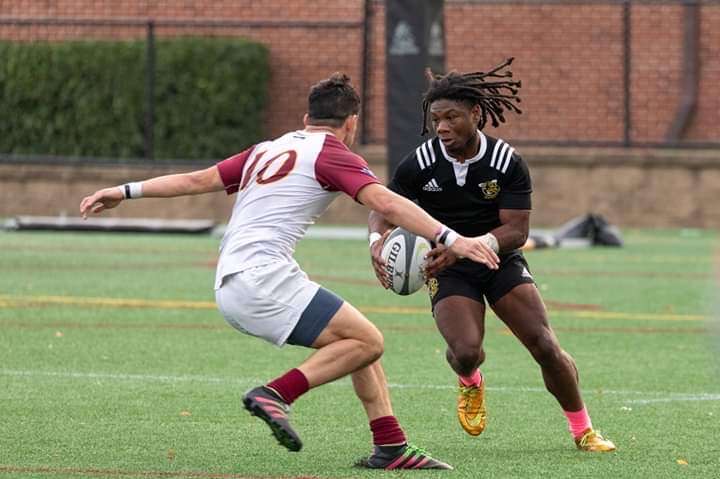 In the early morning of Saturday, October 26, the dawn of AIC's Homecoming day, the men's rugby team traveled to Iona College in New Rochelle, New York to play the Gaels.
The men traveled in two vans and sat through a two-hour ride to Iona College. Iona is one of AIC's top competitors, and it was the team's last regular season game of the year.
While the Yellow Jackets lost, 54-20, they are now aiming for a third place finish and a victory over Syracuse.
The Yellow Jackets already had their ticket punched for the playoffs, but they wanted to test their worth against Iona, who were ranked 14th in D1A Rugby. AIC is ranked 28th. Yellow Jacket senior and standout player Lui Sitama was on tempo for the duration of the game.
When asked to what he owed his great performance against Iona, Sitama stated, "Knowing one of our key players Tommy Clark… went down early into the game, I had to set the tone for the younger guys to know that they could count on me. And a player like me was not going to let rank number fourteen Iona get a win without a fight. So that being said, I had to make them feel every tackle and hard run when they come against me!"
Indeed, Sitama brought the pressure in an assertive way, allowing his team to follow his lead from the tone he set.
Due to Clark's injury during the first ten minutes of the game, he was removed and was not cleared from the athletic training staff to go back in. This left the forward pack down one man and with a lot weight to carry.
Captain Cristian Ortega, reflecting on the injuries suffered by his teammates, discussed later that afternoon the adversity that the Yellow Jackets faced on the field.
"I know coming into every game I have to be prepared to be anywhere on the field," Ortega said.
"It challenged my game yet brought excitement. This team needs to be mentally and physically prepared for the post-season. It's tough teams from this point on, so we need to come with a fight-to-live mentality."
The Yellow Jackets recently played in their playoff game against Northeastern on Sunday, November 10. Tommy Clark returned from a freak injury suffered against Iona, and he redeemed himself with two tries.
Royaal Jones took one down towards the end, but it wasn't enough to stop Northeastern, who slid past the Yellow Jackets, and won 25-20.
But the Yellow Jackets are still fighting, switch on, as they look to compete for third place in the conference.
Returning starter Royaal Jones has been electrifying and a solid core to this team's success this season.
Jones discussed the energy he brings to each game in addition to what he feels this team lacks, and what they need to improve on going into the last game of the season. "I feel like we lack the ability to know what to do in certain situations," Jones said.
"For instance, to just get the ball to the sideline when there's chaos going on to restart the system. Also, working the quick ball out the rucks when needed! To keep the energy up, I just never gave up hope that we were never going to lose."
Jones displays the type of attitude that any teammate would love to play alongside of.
Through adversity, this team looks to grow through this next week as they prepare themselves to play against Syracuse.
Homecoming did not start off well for the men's rugby team, but there are lots of lessons and growth to take away from this one.
The Yellow Jackets look to compete one last time for third place for the conference at Fairfield University against Syracuse University on Saturday, November 16 starting at 3pm.
Go Yellow Jackets!