Yellow Jackets ice hockey buzz into holiday break
The Yellow Jackets ice hockey team goes into winter break looking to be tied for second in the Atlantic division. Although the Jackets have not been strong outside of their conference this year, they have been very strong in conference, and that is what matters most.
If the Jackets look to make a push during the second half and get into the tournament again, they are going to have to win their division again. A tournament bid will only be possible if AIC can avoid crucial losses out of conference.
The team right now sits in a nice spot. They have two more games left in the first half of the season. They have a series against Niagara that will be crucial. They will need both wins to secure second place going into break.
The Yellow Jackets' power play has been on fire recently, and they look to continue their power play as they take on Purple Eagles this weekend. Senior forward Blake Christensen commented on the team's successful use of the power play. "We have a really strong power play," Christensen said.
Christensen went on, "Both first and second units contributing to our success. Every single night we rely heavy on our special teams to get the job done and ultimately win the game for us. As our coaching staff keeps hammering into us: if we win special teams, we will win the game. That has been true up until this point, and we will look to carry this momentum from our special teams over to this weekend and after break."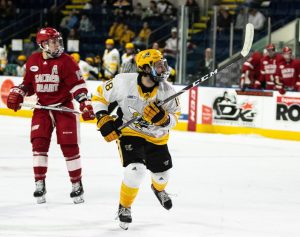 The Yellow Jackets are a top 10 team in the country when it comes to their power play, and their penalty kill has been very good as well. On the back end of the team, the defense has been learning each and every day and are slowly molding into one of the deadliest back ends in all of college hockey.
Leading the way is Brennan Kapcheck, who has racked up thirteen assists in the first half of the season and looks to continue his success that he has had so far this year.
Kapcheck commented on the team's success, "I'm really not worried about individual success," he said. "I really just want the team to win, and to go back to the tournament and finish stronger than we did last year. We know we have so much to prove to everyone, and that last year was not a fluke.
"I think we are off to a very strong start, but we need to start winning some out-of-conference games, and then we should feel a lot better about ourselves. I think we have demons on our back when it comes to out-of-conference games as we haven't been very solid the past few years playing teams we are not familiar with. Overall, we are ready for this weekend and the second half coming up."
The Yellow Jackets will open up the second half after break with a very strong hockey east team in Maine. They will travel up to Maine on December 29 to open up the second half.
Martin Mellburg, another Yellow Jacket, spoke about how important it is to come back strong from break. "I don't think we need to have a good second half."
Mellburg continued, "we need to have an outstanding second half. 'Good' isn't the standard, and definitely won't get us far in playoffs and get us back to the tournament this year. We need to be solid in all three zones, and need to get back to work with the right attitude after break. I believe in this group, and believe they will get it done!"
The Yellow Jackets look to build off their foundation and bring their strength into the second half to take over the league.