Beloved campus personality, Kevin "Moose" Panetta, set to retire in July
College students who leave home to attend school encounter a variety of new people, whether they are teammates, classmates, coaches, or faculty. But for students attending American International College, they have the opportunity to meet Kevin Panetta, more commonly known on campus as "Moose."
Moose was born and raised in Springfield, Massachusetts and has been working at AIC for fourteen years. He is the director of set up, meaning he is in charge of setting up events. Whether it is setting up tables, backdrops, or podiums, he does it all just to make the event the best that it can be.
In the midst of setting up and breaking down events, Moose is constantly checking in on students, whether it is just to say hi, or to ask how their classes are going. He creates these bonds that last a lifetime, and he leaves his mark on people as someone who can always be relied upon.
Moose has a way of making people feel special. Walking near him, you hear him calling students by their nicknames that he makes up.
He is personable and is able to make a difference in every student's experience here at AIC. He makes it seem that every student here is important and he wants them to enjoy AIC just as much as he does.
If you sit back and think about it, Moose is a very busy man. How many events happen day to day on campus that need to be set up, or that need to be laid out to have the best fit?
Regardless of how busy he is, Moose doesn't think twice about sitting down to check on you or to see how your day has been going.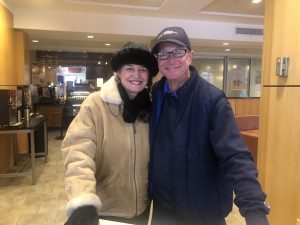 "My favorite part about this job is the kids," said Moose. "I love being able to see them every day. The kids and the faculty. They're great."
On a small campus, it is common to run into someone you know. Almost all have the privilege of knowing or working with Moose.
Both Moose and the President of American International College, Vince Maniaci, have both been at AIC for fourteen years. Maniaci works with Moose hand in hand to make AIC a better place for the students and visitors.
"Moose is dedicated to the college," Maniaci said, "but more so dedicated to the well-being of our students."
Going to college means there are going to be a lot of adjustments. Maybe you're commuting and need to get used to the dynamics of college. Or maybe you're moving away from home and are going to be on your own for the first time.
Sometimes moving away from family is hard and you struggle with not having that guidance.
But junior Stefano Durante, from Brampton, Ontario, explained that Moose has made his college experience better by allowing him to "feel at home."
"Whether you're in a good mood or not feeling well," said Durante, "when you see him, he always has a way of putting a smile on your face or making you laugh."
Among all of these students and faculty, Moose has had an important impact on Candy Lash, the Public Relations Manager here at AIC.
"I have known Moose almost from the first day I came to AIC more than five years ago," said Lash. "I have relied on him to assist me on many occasions and he always comes through. If help is needed, Moose is there and happy to lend a hand."
In July of 2020, Moose is going to be retiring and moving to Florida with his wife. He explained that he is excited to move down south and to work part-time. With his free time, he is looking forward to watching his granddaughter play basketball.
As it will be sad to see Moose go, everyone at AIC can agree that Moose is one of the most selfless people they have encountered in their journey here. The hard work and determination he puts in to make this experience the best that it can be for the students does not go unnoticed.
Moose will be missed when he is gone, but he will always be a true resemblance of what it means to be a part of the AIC family.
Editor's note: Moose is the heart and soul of AIC. He will be missed dearly by his friends here and his huge personality will never be replaced! Live it up in Florida Moose but don't forget about us back home.