Ananda Burnard
While going to college, where you decide to live can be one of the biggest decision you make.
At American International College, those who live close by sometimes opt to save money by living at home and commuting, but the majority choose to live in the dorms on campus.
AIC commuters and campus residents offered insight to what it's like from the perspective they have, living both on and off campus.
AIC offers many living spaces for students. Apartments, suite-style, traditional, and double-style housing is available. Students are able to apply for housing online.
The residence halls you can choose to live in on campus vary based on your age, gender, and year.
They include Hines Hall (first-year students only), Magna Hall (sophomore to senior students), Pouch Hall (female only), Edgewood Complex (graduate and upper-class students 20+), and Acorn Apartments (graduate and undergraduate students 21+).
Junior communications major, Angel Mendez, enjoys living in the dorms. He appreciates the campus dynamic that student housing creates. "This campus is very tight-knit," he Mendez said. "Everyone knows everyone, and as a result, there's rarely any issues."
Coming from another country can be especially daunting. Junior communications major, Andjela Bublic, finds comfort in who she has met and where she lives.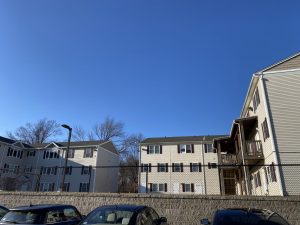 "What I like about AIC is people around me," she said. "They are very nice and always help you. We have good dorms, good rooms, everything is clean."
Other students have banded together to rent a house off campus to save a little more money.
One senior mentioned that they had switched from living on campus to commuting from their new two-family house to cut back on costs.
Students are eligible to commute to campus if they live within a 30-mile radius from campus.
Some commutes are more difficult than others, as freshman communications and new media student, Jorge Diaz Delgado, explains. "It's the travel system that bothers me a lot, which is: take the bus, hop off the bus, hop on another bus."
But Delgado thinks the trade-offs are worth it for him. After all, it "saves a lot of money, which is also helpful. You don't have to pay college dues. That's more money you can use."
For students who don't take public transportation and choose to drive, parking can be a problem. Many students had complained about parking issues near campus.
Parking passes are available to students if they wish to park in an assigned lot instead of trying to find street parking. But some lots tend to fill up with cars more quickly than others.
While it is relatively common for students to move from the dorms into the apartments, on the flip side, some off-campus students often think about making the change to becoming residents.
First-year communications student, Isaiah Morales, who lives in Westfield, has found commuting to be more bother than it is worth. "Having to wake up earlier than everybody to drive thirty to forty minutes every morning is beyond frustrating," Morales said.
"Then, God forbid I wake up a minute later. That minute sums up to five to ten minutes being late to class. It takes up too much gas. And then having to find a parking spot where I won't get parking tickets is another hassle. I'd rather be a resident on campus. I wouldn't mind paying the dues to save time, have my own personal space, and save gas."
Another first-year student, communications and political science major, Rose McCaffrey, agreed. "I do not like living off-campus. It makes me feel disconnected from the school and the activities that are happening."
The students have spoken. As expected, there are pros and cons to every decision. Each of these students has chosen a different path with a common goal of receiving a college education.