AIC men's rugby team preps for Frostbite 7s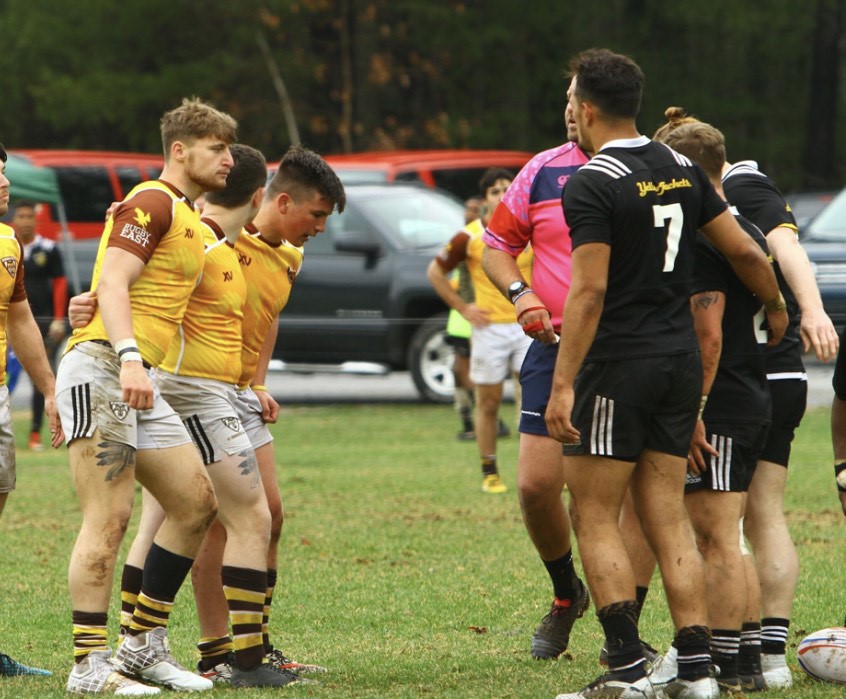 The AIC men's rugby team is back on the field February 29 for their first away tournament in Pennsylvania.  The Yellow Jackets ended their 15s season in third place in the conference last fall.
Third place is not too shabby, though it was not the finish the more senior players had hoped for.
But a new opportunity approaches the Yellow Jackets this spring semester.
The men's rugby team had a remarkable season last year for their 7s season, knocking top-ranked Kutztown University out at the Saratoga tournament, where a number of D-1 college and university teams competed.
The Yellow Jackets defeated St. Bonaventure University to seal their ticket to nationals in Tuscon, Arizona. The boys were off to a run.
The Yellow Jackets came out of the hot Arizona weather second in nationals, creating history for AIC, and bringing acclaim to the program.
Can the Yellow Jackets top off their performance from last season and reach for another ticket to nationals? Or is it a year to rebuild for the young Yellow Jackets on board?
By the looks of it, and from their training so far this semester, the Yellow Jackets have a chance to reach that spot they had last year.
Being ranked second in the nation for 7s does give the AIC Yellow Jackets a target on their back. Teams are going to be coming for them and cranking it up a notch when they compete.
Darrin Fernandez, a returning player who did not play in the fall semester, was a part of AIC's success last year when they placed second in nationals.
Needless to say, he is excited to be back on the field. "It mostly feels good to be able to partake in something I'm passionate about with people I care about," Fernandez said. "What I'm looking forward to most this season is an elite level of competition and be given the opportunity to show again why we are and deserve to be one of the best sevens programs in the nation."
Fernandez's appearance this spring is very much welcomed from the more senior players.
His work rate and addition to the team will give the Yellow Jackets a tremendous boost this semester.
Previously, the men's and women's teams were joined programs because the former women's rugby coach had to step down. This shift left coach T. Fletcher for men's rugby to be the Director of Rugby.
She is capable of leading both programs to success and organizing alongside with assistant coach Corey Momsen. Under their leadership, they have established a good working relationship with the men's and women's teams, uniting rugby and the Yellow Jackets in the process.
During the end of a practice session while training for Frostbite 7s, Lui Sitama shared his excitement for the spring season. "First tournament of the season!" he said.
"We want to make sure we play together as a team because rugby is not a one-man team." Sitama described how the structure of the game should be in order for this team to succeed. "We want to make sure we execute every play perfectly and move that ball from right to left. Because the ball moves faster than anyone."
Sitama is having a great year for the Yellow Jackets, becoming first team all-conference alongside teammates Tommy Clark and graduating senior Cristian Ortega.
Both Sitama and Clark got top honors of the conference, Sitama as Top Back and Clark as Top Forward. Seniors remain a huge presence in the conference, and are eager to maintain their importance in the spring.
Stepping up as a leader for the Yellow Jackets is Carm Consolino. "We have what takes," Consolino said. "The boys just need to stay locked in and let that outside drama or whatever's going on–keep it away from the business."
The AIC junior makes a strong statement. The Yellow Jackets look to keep building up towards their first tournament in Pennsylvania on February 29th.
Sting 'em!