2020—From Bad to Worse
The past twelve months have been a tough ride, from celebrity deaths to massive environmental destruction, and now COVID-19.
2020 started with wildfires across Australia burning down the habitats of wildlife. Then a massive earthquake hit Puerto Rico. In February, we lost 'Pop Smoke', the hottest upcoming hip-hop artist, at the age of 20. The world also lost a hero and legend, Kobe Bryant.
Through all this, we watched as the novel Coronavirus started to spread across the world, starting in China, then moving to Italy and the rest of Europe. In March, the infamous Covid-19 made its way into the United States.
Many of us use Coronavirus and COVID-19 interchangeably, but COVID-19 is just a single kind of coronavirus. COVID-19 stands for COronaVIrus Disease 2019, the year the novel, or new, coronavirus was identified.
The Coronavirus is a type of common virus that infects humans, typically leading to an upper respiratory infection. Seven different types of human coronavirus have been identified. Most people will be infected with at least one type of coronavirus in their lifetime.
The viruses are spread through the air by coughing and sneezing, close personal contact, touching an object or surface contaminated with the virus and rarely, by fecal contamination. The illness caused by most coronaviruses usually lasts a short time and is characterized by runny nose, sore throat, feeling unwell, cough, and fever. Sometimes the symptoms are more severe, such as the 2003 SARS outbreak, and the current COVID-19. SARS stands for Severe Acute Respiratory Syndrome.
Because of the severity of the condition, and because it is highly contagious, the United States has shut down. Americans must remain indoors to prevent spreading the virus. Until further notice, we are only allowed to go out for essential reasons, such as to go to grocery stores. Some states, like California, have a $1,000 fine for people caught not following the rules and regulations.
This shut down extended to our AIC Community as well. Students and professors had to adjust to distance learning. Not all students have regular and stable access to the internet, making this an unexpected hardship. Many employees in the community were laid off. Students' loans are still due, even though they and their families may be out of work. Some students can't go back home due to canceled flights.
Currently, we are living in a historical moment. At the time of writing, we have seen a record number of unemployment claimants—16.6 million in the last three weeks. According to Ben Piven of AJ News, "the economic fallout from the coronavirus pandemic is still far from clear." While no one knows what the future will bring, Piven goes on to note that "Many economists suggest that even with an unprecedented intervention by the federal government and the US Federal Reserve, millions of jobs could be permanently erased within months."
While these numbers are frightening, it is nowhere near as frightening as the loss of life we may see if we, as a society, do not listen and do as we're told. People are losing their loved ones from the virus. With no cure for the virus, it is up to us and our immune systems to recover on our own. Some say if we don't take this seriously, before we know it, the virus could eliminate humankind forever.
World Health Organization makes several recommendations for the best ways to prevent the spread of this disease: "Washing your hands with soap and water or using alcohol-based hand rub kills viruses that may be on your hands. Maintain at least 1 meter [3 feet] distance between yourself and anyone who is coughing or sneezing. Avoid touching your face. Cover your mouth and nose when coughing or sneezing. Practice physical distancing by avoiding unnecessary travel and staying away from large groups of people."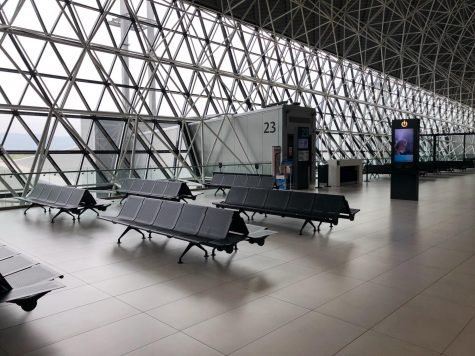 Photo by Jacques Le Gall on Unsplash