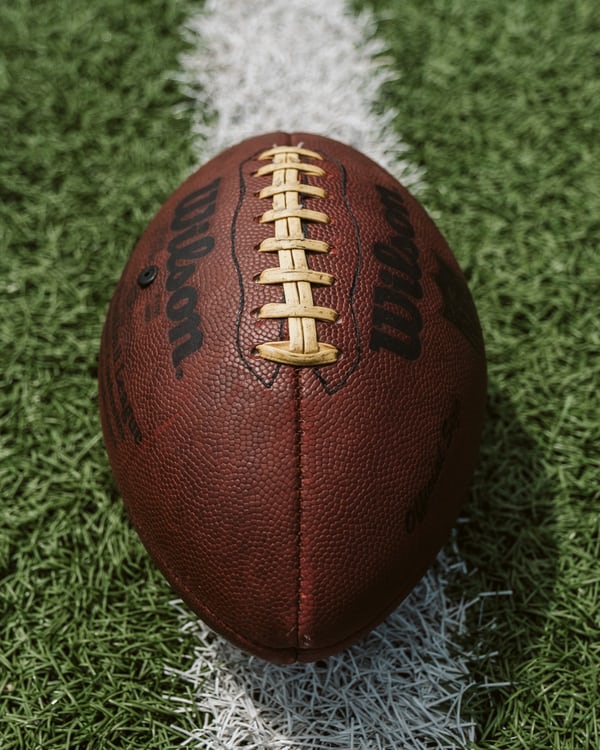 This year, there are a lot of changes to Super Bowl LV due to Covid-19. The game pits the Kansas City Chiefs against the Tampa Bay Buccaneers, Patrick Mahomes against Tom Brady. The first big change this year is that all pre-game interviews will be done on Zoom. Only nine players from each team are allowed to join the meeting.
According to past attendance records, the only time the Super Bowl has not been sold out was in 1967 when the game was called the AFL-NFL World Championship. That game had only 61,946 fans.
This year, only 22,000 fans will be in the stands cheering for their favorite team.
"More than one-third of those in attendance (approximately 7,500) will be vaccinated health care workers," writes Nate Davis of USA Today. "Most will come from Central Florida, though all 32 teams will be allowed to send health care representatives who fought the pandemic in their respective markets."
Since the onset of Covid-19, there have been many restrictions in place limiting the number of fans  allowed at the stadium during the regular season. Some of these games were played with cardboard cut-outs taking the place of fans in the stands.
The season has been going on as planned during the new normal. The NFL network has a special program for the fans. "Fans, who in recent years were allowed to watch on site, can instead turn to NFL Network (8 p.m. ET) for 'the best of the best moments and an NFL Network exclusive conversation between Super Bowl coaches and quarterbacks,'" according to a league news release.
The Kanas City Chiefs will not be expected to be on site until Friday or Saturday. The players from both teams will limit their time in public before the game, so fans will not be able to meet their favorite players in person.
Jacob Sweigard, a Tom Brady fan, gave his opinion on this year's Super Bowl. "It's different because you have the forty-three old goat about to win his seventh Super Bowl," Sweigard said. "Guess who he gets to win it against? A fraud named Patrick Mahomes. Everyone will realize Mahomes is just a trash QB in comparison with Brady."
Super Bowl LV is going to be very different for many football fans. It's not going to be the same because Covid-19 has transformed the culture of the United States.
The NFL has implemented Zoom meetings, social distancing, and has enforced wearing a mask at all times. This is the first Super Bowl ever where events are virtual rather than in person.
Tanner Goodson stated his opinion on the Super Bowl, saying, "The biggest difference I can think of is that it'll be the first time in the Super Bowl where we'll have one QB over the age of forty and one under the age of twenty-six… It'll be the biggest age difference between QBs in Super Bowl history."
Goodson projected that this could be the final game for the former Patriots Super Bowl champ. "If Kansas City wins the Super Bowl, in my opinion it will more than likely mean Brady's retirement," he said. For Goodson, this game could make Mahomes' career, since a Kansas City victory will also mean "that the league's best QB from now on is gonna be Mahomes." On the other hand, Goodson predicted that "If Tampa wins, it'll mean that Brady is still right on top and got a few more years left in him."
Carmen Consolino had a different opinion about this year's Super Bowl. "It should be the Packers and Chiefs, first of all," he said. "It should be a good match up with a solid defense against a strong Chiefs offense. These teams played earlier in the season which resulted in a high scoring close game, 27-24 Chiefs win."
Consolino continued, "I expect the same type of game with the Chiefs on top again. The Buccaneers are one of the best rush defenses in the league, led by Devin White. But that doesn't matter for Pat Mahomes and company, who average over 250 yards a game through the air. If the Buccaneers can find a way to stop Kelce and Tyreek Hill, then they have a game."
Still, the Bucs are not a team to underestimate, according to Consolino. "There is always the Brady 'magic,' along with a very talented Bucs offense. But if he throws three interceptions again, Pat Mahomes will compromise off those mistakes. The Chiefs' defense is all over during the season, but most of the time show[s] up out of nowhere in the playoffs. I could see this being a high-scoring, no-defense game, to decide and show who's the better QB."
Tune in on Sunday, February 7th at 6:30 pm Eastern time to find out who will take home the Super Bowl trophy. You can find the Super Bowl on ESPN, FOX, and CBS.