'Raisin in the Sun' shines at AIC
AIC Theater Director Frank Borrelli and his cast outdid themselves in their late April showing of 'A Raisin in the Sun,' the classic Lorraine Hansberry play that blends family dynamics with the civil rights social movement of the early 1960s.
The production ran April 25, 26 and 27 in the Griswold Theatre, drawing nearly full crowd for each performance, with an estimated total attendance of 900.
Those who attended the show spoke in superlatives.
"It's awesome," said AIC President Vincent Maniaci, following the Friday night performance.
"It was very professional, and very compelling," said Lori Martin, assistant to the dean in the school of Business, Arts and Sciences. "The audience loved it. You could hear a pin drop."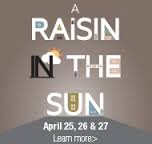 A Raisin in the Sun tells the story of the Younger family, with mother Lena, son Walter Lee and his wife Ruth, daughter Beneatha and grandson Travis living in a dilapidated two-bedroom apartment in the south side of Chicago. They argue over who's running the family, how to spend a hefty insurance check, women's rights, civil rights, and ultimately, whether to move to a house in a white neighborhood. That argument gets heated when a white resident of that neighborhood visits and offers cash if they stay away.
Borrelli said the performance was a perfect blend of students in his newly expanded Theater Arts Program building the set, making costumes, producing and acting out this compelling story.
"I give the students all the credit," Borrelli said after the successful weekend. "They were great. It was a real coming together of everything we have to offer."
Graduating senior Belky Rodriguez-Otero, who did not participate in this production because she performed in Greene Room Productions 'Hairspray' at the Palace Theater in Stafford Springs, Conn., said she thoroughly enjoyed the AIC show.
"I love the topic. It's about race, but it's set during a time when the language used includes words we don't hear today," Rodriguez-Otero said.
"But more than anything, it's about a family struggle, and everyone can relate to that. Whether you're black, white, Hispanic or whatever, it's universal," she said.
Visitor Robert McCarroll, who is a member of the Springfield Historical Commission, agreed.
"The play is a great story, and the production is very well done. The setting and the cast really work," he said.
AIC Board of Trustees Vice Chair Frank Colaccino said he was impressed and well entertained.
"It's excellent," he said. "I like how real it looks, and how good the actors are. It's very believable."
Actors included Casey W. Hines, Elizabeth Williams, Nengi Omegbekuse, Dawn Shaw, Travis McNulty, Samuel Walker, Brandon Haywood, Shane Duplice, Kyle Jamison, Drahcir Dickson, Zachary Detour and Shalana Ford.