Cory Schneider Named Associate Head Coach of Men's Hockey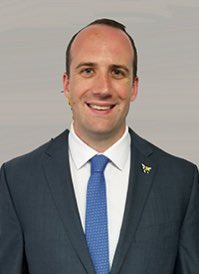 Cory Schneider jumped on board with the Yellow Jackets organization in August of 2019. Since then, he has been a tremendous help to the coaching staff, leading the team to previously unknown levels of success. On January 4, 2022, Head Coach Eric Lang announced that Schneider would be promoted to Associate Head Coach.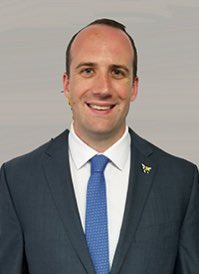 I had the opportunity to speak with Eric Otto, a junior at AIC, who is also an active member of the hockey team to hear his thoughts on Coach Schneider. Otto stated, "Coach Schneids is a great coach and an ever better guy. He has helped me grow not only as a player but as a human and that's what our coaching staff does best."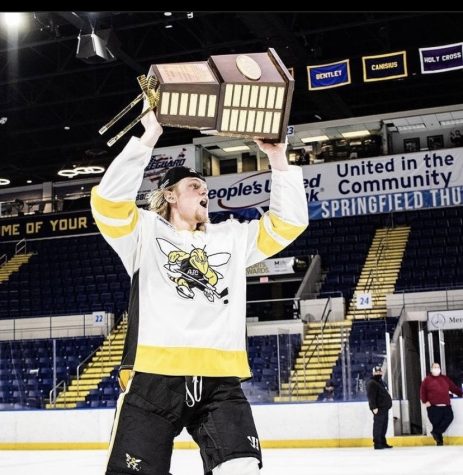 Coach Schneider has always been passionate about hockey, even before landing this job at AIC. Before coaching, Cory was a very successful hockey player himself. He was born in Rochester, New York. Schneider played junior hockey in the British Columbia Hockey League (BCHL) for the Penticton Vees, tallying forty-eight points in sixty games. After that, he was fortunate enough to play for four years at the Ohio State University. He was even named captain for his senior season. Following a very productive college career, Schneider had a short stint of professional hockey, totaling ten games split between the ECHL and the CHL.
Schneider first got hired as a volunteer assistant coach at Wentworth Institute of Technology for the 2015-2016 season as well as for the following 2016-2017 season. At Wentworth, Schneider would focus on player development and player recruitment. Schneider then made the switch to UMass Boston, a Men's Division III Hockey powerhouse where he was assistant coach for two seasons. In his short time with the Beacons, he helped propel the team's penalty kill from 45th in the country to 7th. In turn, this led the Beacons to win a conference championship and to reach their first ever NCAA Division III tournament appearance.
Since the start of the 2019 season, Coach Schneider has had much success. In that season, the team went 21-12-1 and won their second consecutive Atlantic Hockey Conference title. His second season behind the bench at AIC was even better than the first. In 2020-2021, the Yellow Jackets went 15-4-0 in a COVID-19-plagued season. The schedule was subject to repeated cancellations and rescheduled games. Coach Schneider helped lead the team to their third consecutive Atlantic Hockey Conference Championship, which punched their ticket to the NCAA Tournament. There, AIC would come up a short, losing to the #1 ranked team in the country, University of North Dakota.
I asked Coach Schneider about his time here at AIC and about having the chance to coach at the level he once played at. Coach Schneider replied, "It's an honor to be able to coach at the Division I level, to work with incredible players, and to be involved in a game that has given me so  much. I am fortunate to be part of an amazing group of players and staff here at AIC. Yes, we have been able to win some games here, but it is so much more than that. This group makes my job easy and is a pleasure to work with."
Schneider has been an integral part to AIC's success the past three seasons. From his keen eye on recruiting, to his power play systems, to his interpersonal communication amongst the players, he has been a tremendous asset to the Yellow Jackets team.
Schneider and the Yellow Jackets have a tough test against Atlantic Hockey Conference rival Rochester Institute of Technology Tigers on February 4 and February 5.